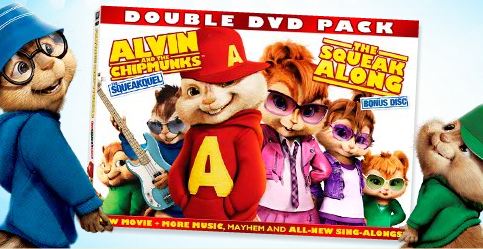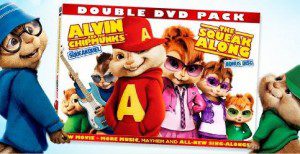 This is a Sponsored Post written by me on behalf of Alvin and the Chipmunks. All opinions are 100% mine.
I'm sure you've heard this all over the place but this week Alvin and the Chipmunks: The Squeakquel was released on DVD, Blu-ray and Digital download.   I've been waiting for this because we  missed it in the movie.
Ever since I was little I've loved Alvin.  He was always my favorite chipmunk, probably because he was always doing crazy things and it was very easy to get a laugh from him.   Besides the fact that he's cute!  One of my favorite Christmas songs is the one by Alvin & The Chipmunks.   I love hearing it every year.  It's like part of my holiday tradition.
If you grab the Double DVD Pack you'll also get a Bonus Disc "The Squeak Along" which has more music, mayhem and a Brand new Singalong.  Who doesn't like to sing with the chipmunks!   I'm thinking of grabbing that one since I know my girls will have lots of fun with it.  I've been sick all week so I'm hoping to get out this weekend, do some shopping and get The Squeakquel.
Have you Munked yourself??  Haha that sounds funny but seriously visit MunkYourself.com and let the kids have fun.  They will love all the different options and can really mixed things up for a great laugh!  Then head on over to Fox for More Munk Mayhem.
Haven't seen it yet?  Well you can buy it now.  Your kids will love you for this!