I participated in the Amwell blog program as a member of One2One Network. I received compensation but all opinions are my own.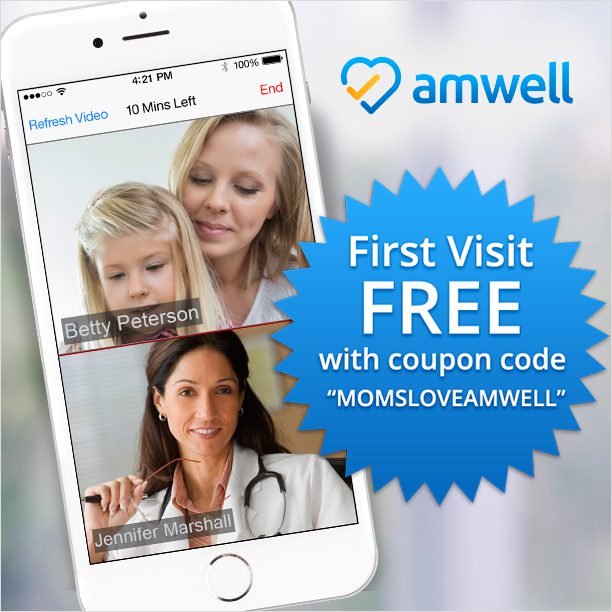 Do you hate going to the doctor? I do. It's not so much that I hate the actual visit. I just hate having to drag my sick self out of bed, drive to the office, and then wait. With Amwell, I don't have to! With Amwell, all I have to do is fire up my mobile device or computer, and I can see a doctor. Yay!
Amwell – No Insult to Injury
I think Amwell is great. It's the largest company of its kind in the U.S., and its doctors are available 24 hours a day. That means that no matter when I'm feeling punky, I can quickly get in touch with a doctor without hacking and wheezing and dripping all over the place. Nobody wants to see that.
Amwell is a way to connect with a doctor for consultations, diagnoses, and prescriptions for non-life threatening illness and mental health issues including:
Bronchitis
Cough
Sinus infection
Sore throat
UTI
Vomitting
Diarrhea
Fever
Pinkeye
Flu
Sprains and strains
Cold
Respiratory infections
Headache
Depression
Anxiety
Weight loss
Smoking cessation
That's quite a list right? You can get help on pretty much every non-emergency issue you have with Amwell.
In addition to convenience and a wide variety of service, Amwell is more affordable than the average office visit. On average, a regular trip to the doctor costs about $82. A consultation with an Amwell physician costs $49. That's $33 less!
If that wasn't enough, I know I'm getting the highest quality doctors through Amwell. They were ranked as the most popular telehealth app worldwide in 2014, and they were the first service to receive accreditation by The American Telemedicine Association. It's also the only mobile health service that allows you to pick the doctor you want.
My Experience with Amwell
I wish I had discovered this years ago, especially when the kids were little.  Can I just tell you how easy it was to visit a doctor on Amwell?   Once you log into the site – from whatever device you'd like to use – you can see a list of doctors that are available at that moment and their profile, so you can read up on them.
Once you choose the doctor you want to see, you click "start visit" and you will then have a video chat with them.  Just like you were face to face in the office.  This will allow them to see you to not only have a more personal conversation with you, but to also aid in diagnosing you, if necessary.
I used my visit to speak with a nutritionist because I had questions on ways to incorporate nutrition into diet without feeling sacrificed this summer.  It's a struggle I am always dealing with and I've tried diet after diet but never spoke to a nutritionist.
The visit was very personal and I felt comfortable talking with her especially since it was in the privacy of my own home.  Now waiting in the waiting room, then in the exam room.  After my visit was complete, I had a review of everything we talked about so I could refer back to it later.   She gave me a lot of great information which I think will be helpful.  And I won't hesitate to call her back again!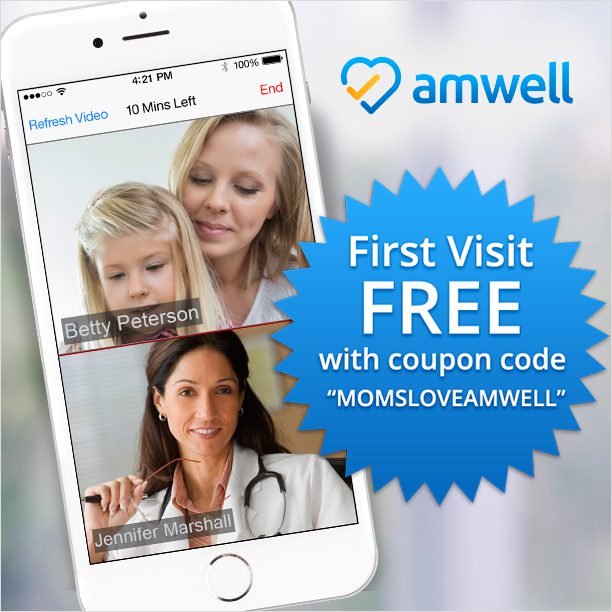 Try Amell for FREE
You can get your first visit free when you use code "MOMSLOVEAMWELL" – that's a $49 value!  There are doctors available 24/7 and you don't have to leave your house!
What will you use your FREE Amwell visit for?