Believe it or not, the kids are really excited to go back to school in a few weeks.  They don't see all their friends over the summer so they are looking forward to getting back in touch with everyone.   Both of my girls are very social but also good students and they enjoy school… at least now!  I'm sure as they head into middle school, that'll be a different story.
In honor of the kids going back to school, here is a fun recipe that the kids can help you make.  Back to School Rice Krispies Treats.  They are super colorful and fun to celebrate the back to school season!  These are perfect to whip up for an after school treat.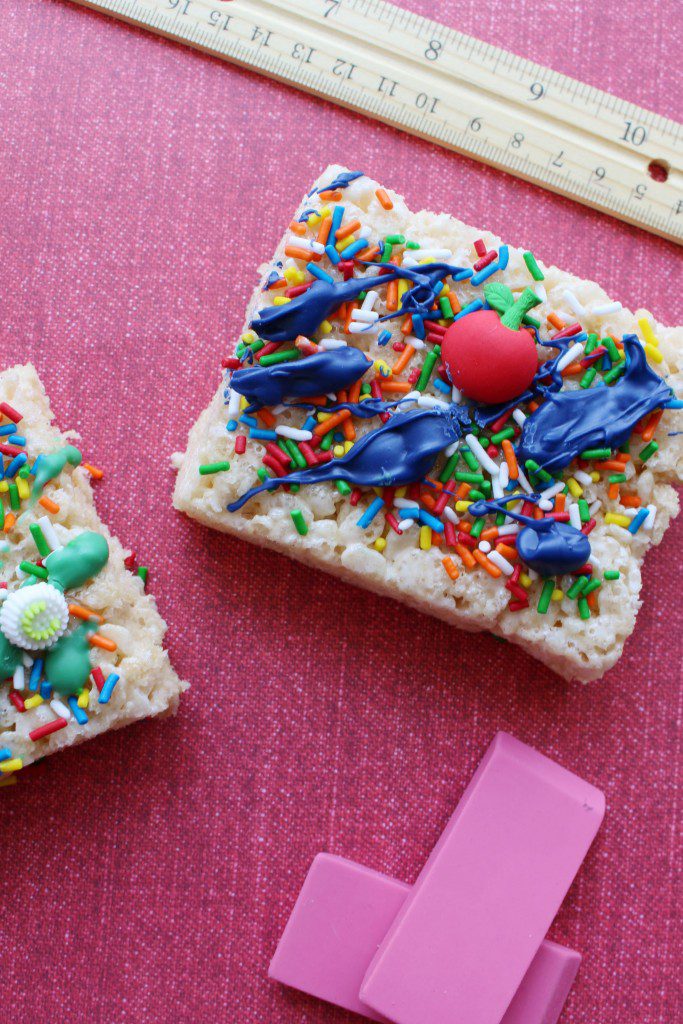 We love making these and we like to add different toppings for special occasions.  And of course eating them plain is fun too, but the kids love decorating them.  With this recipe, you'll drizzle melted chocolate over the top and then add fun decorations.
Back

to

School

Rice Krispies

This recipe will yield a 9 x 12 pan:

INGREDIENTS
1 cup (2 sticks) butter
Two 10 oz. bags of mini marshmallows
10 cups Rice Krispies cereal
1/2 teaspoon salt
1/8 cup each of Wilton red, blue, green and yellow melting chips
Wilton edible Apple and ABC's decorations

DIRECTIONS
1.   Line a 9×12 pan with foil and spray with Pam. Set aside.
2.   In a large sauce pan, melt butter over low heat.  And marshmallows to the melted butter, stirring constantly.
4.   Once the marshmallows are melted, remove them from the heat and stir in the cereal and salt until well-coated.
5.   Use a rubber spatula to transfer the mix to the prepared pan and press down firmly and evenly.
6.   Let them coll completely in the pan.
7.   Use a metal spatula to loosen the cereal from the pan and then invert the cereal onto a plate.
8.   Let them cool completely before cutting into 8-12 even pieces.

You can use any type of toppings you want, but here is what we used for the back to school ones.
Microwave 1/8 cup of Wilton red chocolate melts for 30 seconds. Stir until completely melted. Drizzle over three bars.
Repeat steps above with blue chocolate melts, green chocolate melts and yellow chocolate melts.
Before icing dries, firmly apply Wilton edible Apple decorations and ABC's to each bar.
ENJOY!