Summer time is so relaxing and less stressful because we don't have to run around like crazy all the time.  But once school starts, that is not the case.  And this fall will be no exception.  I've recently taken on another job which will make things even more hectic.  Plus my oldest is going to a school that is 30 minutes away which is an hour round trip if I have to pick her up!   I'm all for saving money and time which means I will be getting grocery delivery a lot this coming school year.
Grocery Delivery from Peapod for Back to School

Being a single mom of two kids and the only driver in the house, sometimes grocery shopping isn't easy to get to.  I'm so glad to have Peapod delivery in my area and I've used it several times in the past.  Peapod not only delivers, but they bring everything into the house for you and place all the bags on the counter or table for you!   I like to order bukly items since I don't have to lug them around myself. And I love the convience of picking delivery times that are perfect for me.
Lunchables Deal at Peapod
Since school lunches are always a hassel here, I like to let the kids pick out what they want.   They always ask for Lunchables.  Their favorite one is the Pizza lunchables.  They love them cold right out of the package or warmed if they are home.  I like how easy they are to toss into a bag and head out to school.  Right now Peapod has the best deal on Lunchables, buy 10 for $10!  That's an awesome deal.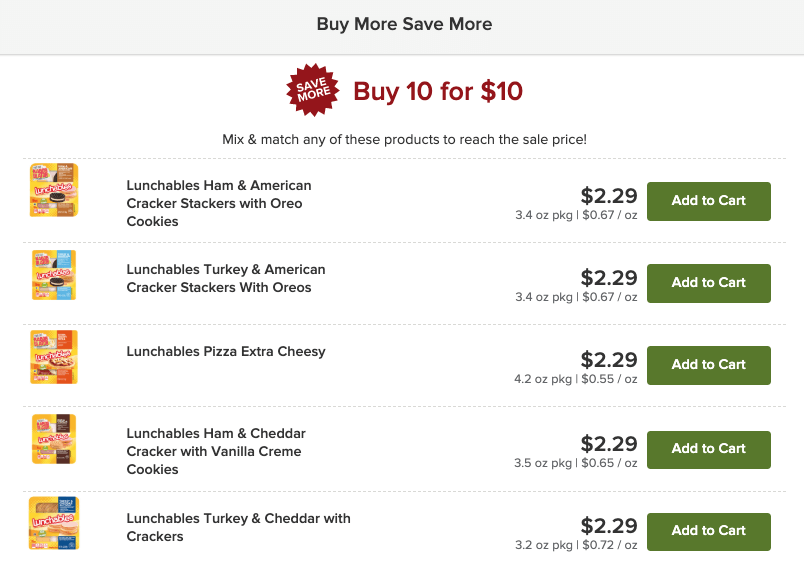 Once your on the Peapod delivery website, you must enter your zip code and then the offer will be on the next page.  This is the perfect time to stock up.  My girls also like to have these for an afterschool snack.
Exclusive Peapod Delivery Savings
I also have an exclusive code for you to save $30 off your purchase of $100 or more from 7/8/19 till 9/11/19 on Peapod.com.
First-time residential customer?  Enter code 30LUNCHTIME at checkout to get $30 off your first order of $100 or more, before taxes and after all other coupons and savings are applied. Deliver or Pick-up fee waived on first order and then on all subsequent orders of $100 or more if placed within 60 days of first order. Offer excludes alcoholic beverages, gift cards, postage stamps and any other purchases prohibited by law. Offer not transferable. Limit 1 per household. Offer valid for residential customers only. Not valid with any other offer. Expires 09/11/19.
Existing customer? Enter promo code 30LUNCHTIME at check out to get Delivery or Pick-up Fee waived on orders of $100 or more. Offer expires 09/11/19.
Markets Where Peapod Grocery Delivery Service is Available:
Baltimore, MD
Boston-Manchester, MA-NH
Chicago, IL
Harrisburg-Lancaster-Lebanon-York, PA
Hartford & New Haven, CT
Indianapolis, IN
Milwaukee, WI
NY, NY
Philadelphia, PA
Providence-New Bedford, RI-MA
Springfield-Holyoke, MA
Washington, DC
Note: This coupon code is limited to 1 per household and is only good for residential customers.
This post is sponsored by Savings.com.