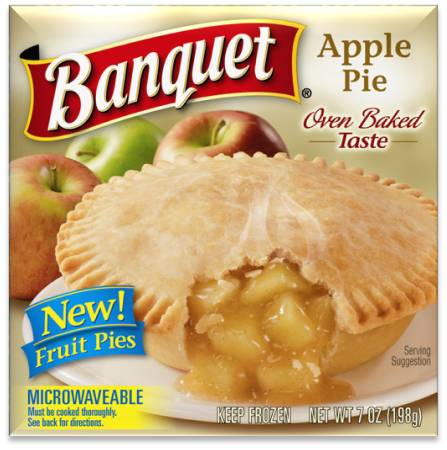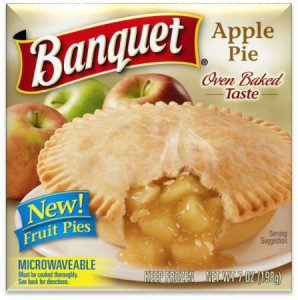 As you can probably tell, I love reviewing products but what I love the most is when I get to eat the products I review!!! That's the absolute best!  The most recent yummy product my family and I tried out are the new Banquet Fruit Pies. I love Apple Pie (especially my moms.. sorry she really does make the best!) but what I love even more is warm Apple pies with a scoop of French Vanilla Ice Cream on top!! OH MY… SO.GOOD!!
Now that I have your mouth watering let me tell you a little bit about the new Banquet Fruit Pies so you can go and buy some!
"Banquet has provided families with delicious meals for more than 50 years, and this summer they've launched new single-serving fruit pie desserts. Each Banquet fruit pie has a half serving of real fruit inside a flaky pastry shell that bakes fresh and hot from your oven or microwave in minutes. The pies come in three classic flavors: apple, peach, and cherry berry and at only about $1 a pie, Banquet pies make it easy to treat guests at a summer get-together, offer a special "finale" for your next family dinner, or just indulge yourself with a mid-day treat."
Guess what? You can (hopefully) try them for yourself this weekend for FREE!! From August 26-28, 650 select Walmarts nationwide are offering in-store demonstrations with free samples of the pies topped with Reddi-wip! And hopefully your local Walmart is participating because these are really good and I want you to try them too!!! To find out if your local Wal-Mart is having a demo, please check with the store manager.
I had the Apple Pie and let me tell you it was really good, well at least I thought so! I did add the ice cream on top but I only had half of the pie when I did that… and then the next day had the other half with more ice cream. I didn't feel as guilty doing it that way. However, you don't need the ice cream to enjoy this pie, it was good just on it's own. I loved the option of cooking it in the microwave because I don't like to heat up my oven too often in the summertime. These are perfect to keep in the freezer for un-expected company.. of course not for 25 unexpected people but if someone stops by for coffee you can pull one or two out and pop them in the microwave and you'll have a nice yummy dessert to serve with ice cream with coffee!
Have you tried them?  If you have what did you think?  If not try to get a bite at walmart this weekend then come back and tell me if you agree!  And don't forget to pick some up too, they are pretty cheap and yummy!
"I wrote this review while participating in a blog campaign by Mom Central on behalf of Banquet and received free coupons to facilitate my candid review. Mom Central also sent me a gift card to thank me for taking the time to participate."