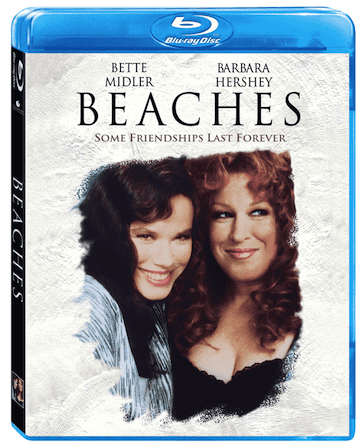 Product Name: Beaches Blu-ray Review
Product Information: On November 6th, Beaches was released on Blu-ray for the first time.  You can relive the lifelong friendship of CC Bloom and Hillary Whitney!  Bonus features include "Mayim Blalik Remembers," Barbara Hershey screen test and more!  It debuted on Blu-ray November 6, 2012 with New Digital Restoration.
ABOUT BEACHES
A privileged rich debutante and a cynical struggling entertainer share a turbulent, but strong childhood friendship over the years.
Cast:
Bette Midler (The First Wives Club, Divine Madness) as CC Bloom
Barbara Hershey (Black Swan, Hannah and Her Sisters) as Hillary Whitney Essex
Director:
Garry Marshall (The Princess Diaries, Pretty Woman)
Screen Writer:
Mary Agnes Donoghue (Veronica Guerin, White Oleander)
Bonus Features:
"Wind Beneath My Wings" Music Video
Segment from "AFI's 1000 Years…100 Songs" with Bette Midler
Barbara Hershey screen test
Blooper Reel
"Mayim Blalik Remembers"
Suggested Retail Price: 1-Disc Blu-ray $20.00
My Thoughts: I saw Beaches for the first time many years ago when it was first released and it's been a favorite of mine ever since! I can't even tell you how many times I've seen this movie and I know some of it by heart. It's just one of the greatest movies about friendship I've ever seen.
It's funny because when I saw it years ago, I was much younger and I had no idea what it is like to have a friendship like CC Bloom and Hillary Whitney. But now that I'm older I can say that I really do know what it's like to have a bond like that between friends that never really does break. I've been friends with my Best Friend since the day we met at college orientation and while our friendship hasn't been as wild as CC and Hilary's was, we've had our ups and downs, happy times and sad times and we've celebrated and made it through so many moments together over the past 21 years. It's a blessing to have such a great friend!
I was so excited to get this Blu-ray and to see the bonus features. I haven't seen the Wind Beneath My Wings video in years. Does MTV even play videos anymore? I don't think so! LOL I also thought it was fun to see Mayim Blakik remember and the blooper reel was fantastic! I actually watched all the bonus features before seeing the movie so it was a nice walk down memory lane to even just watch the Bloopers.
This is such a great Blu-ray to have in your collection and if you know someone about my age that grew up with this movie, I can tell you it would make a great holiday gift!
Disclosure: I received a Free product for review. My opinions are 100% mine.