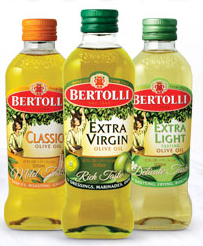 Bertolli® Olive Oil, the number one olive oil brand worldwide started the Bertolli Olive Oil Let's Cook Summer Sweepstakes last week and it will run through September 6th.  You will have the chance to win amazing prizes, including:
Grand prize trip for FOUR to LA, for one-on-one cooking lessons with Top Chef's Fabio Viviani – OR –$5,000 for a kitchen makeover!
Monthly prizes of Bialetti cookware
Weekly prizes of the Café Firenze cookbook, signed by Chef Fabio
Daily prizes of Bertolli Olive Oil
You can enter the sweepstakes at  WhereFlavorComesFrom.com and also download their Let's Cook! app for iPad, iPhone and iPod touch, featuring five hours of cooking tutorials with Chef Fabio!