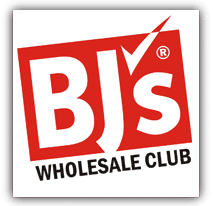 Did you know that BJ's is the only membership club that accepts manufacturer coupons? On top of the everyday savings, BJ's members can stretch their dollars further, by using manufacturer coupons and BJ's issued coupons.  At the front of every BJ's Club, it offers a coupon flyer that is updated twice a month with BJ's store coupons.  You can combine them with Manufacturer coupons to stack your savings.
Do you want to find printable coupons quickly?  Besides my coupon page, you can also head on over to On journal.bjs.com or BJs.com where Members can find more in-Club savings through a partnership with Coupons.com.  These coupons are for larger sizes that you'll find at BJ's and are higher values!
Since BJ's sells their items either in larger sizes or multipacks, there are some things to keep in mind when using coupons.  They really do want you to get the most bang for your buck so they have a few exceptions to the rule.
To use coupons at BJ's Members can reference the following guidelines:
Guidelines for using more than one coupon
When purchasing a multi-pack of "individual for sale" packaged items, which is a set of items that could be sold individually (each item has a barcode) shrink-wrapped and sold together, shoppers can use multiple manufacturer's couponsand ONE BJ's coupon on it. The total value of the coupons cannot exceed the total retail value of the item.
Examples of a multipack:

Three-pack of toothpaste
Two-pack of salad dressing
Three-pack of taco kits

Examples of products that are NOT

Box of cereal that contains two bags (the bags cannot be sold individually)
Case of water, Case of soda, Case of juice and Case of motor oil
Using BJ's Coupons AND Manufacturer's coupons Together
Members may also use one BJ's coupon and one manufacturer's coupon on a single item to save even more.  Just make sure you are purchasing the exact item on the coupon.  Some of them are very specific.
Using Buy One Get One FREE Coupons
All buy one, get one free (BOGO) offers will be honored for in stock items only for a maximum value that does not exceed BJ's retail. If the manufacturer's coupon does not state the maximum value, we cannot honor the coupon.
Those are the DO's of using coupons at BJ's but of course they have a few DONT's as well.
BJ's cannot accept multiple BJ's-issued coupons on a product.
All coupons must be presented within the valid begin/end date range shown on the coupon.  If the coupon is expired, it will not be accepted.
BJ's does not accept mobile coupons at this time.
You'll find that their staff is very well trained in their coupon policy so if you aren't sure if the coupon will work for a specific item, just ask and associate.