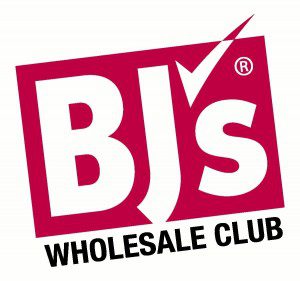 In an effort to save money, families are spending more time at home and whipping up favorite family meals. Doing that, it's all too easy to fall into a recipe rut. BJ's Wholesale Club has developed some recipes that serve four people to help fit your budget.
Here is one of the recipes:
Pasta Primavera– Recipe courtesy of BJ's Wholesale Club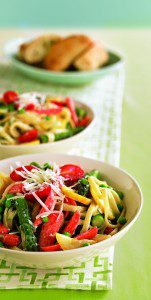 A classic dish loaded with healthy veggies!!!!
8 oz. Barilla® Linguine
1 small Summer Squash, thinly sliced
10 oz. Asparagus Spears, 2″ pieces
8 oz. Green Giant® Baby Carrots, quartered lengthwise
1 cup Berkley & Jensen® Grade A Fancy Peas, defrosted
1 recipe White Sauce (below)
¾ cup Sargento® Shredded Parmesan Cheese
Grape Tomatoes (Optional)
Add pasta to large pot of rapidly boiling, salted water. Cook 4 minutes.
Add all vegetables except peas to pot with pasta. Cook until vegetables are tender and pasta is al dente.
Drain immediately and transfer to large serving bowl. Add peas and toss to mix.
Prepare white sauce according to recipe. While still hot, add ½ cup shredded cheese and stir until melted.
Pour cheese sauce over pasta-vegetable mixture and lightly toss to mix.
Serve immediately garnished with remaining ¼ cup shredded cheese and Grape Tomato halves (optional).
Doesn't that sound yummy!!!  And with the summer coming you could toss in so many things fresh from the garden too!
Bj's is a great place for coupon users. They are the only wholesale club to accept manufacturer's coupons in addition to their own, helping to further trim your grocery bill!  You can use multiple coupons on a multi-pack of "individual for sale" items, by combing a BJ's coupon and manufacturer's coupons (you cannot use multiple BJ's coupons on a product). For example, when you purchase a 3-pack of toothpaste, use three manufacturer's coupons – one per each individual tube. It's great for stocking up on essentials!
BJ's has 187 locations in 15 states.  Click here to see where your closet BJ's is.  You can sign up here for a 60 Day FREE Trial** with all the member benefits. The 60-Day Trial Membership can be activated through July 5 and is good for 60 days from date of activation.
**Offer expires July 5, 2010 and is good for 60 days from date of activation.
Giveaway
BJ's has generously offered to give (1) Koupon Karen reader a FREE 1 year BJ's Membership!! That's a $45 Value!
How to Enter
This is a little different than my usual easy entries.  I'm going to make you work for this one a bit! LOL  Look at the recipe above and tell me how much you think the cost would be per serving, based on 4 servings.  The person who comes the closest without going over will win.  In the event that there is a tie, I will then pick a random winner amoung them.
There are no extra entries in this giveaway.  You've got one chance!!
Details
This giveaway is open to US residents only and will end April 1st at 11:59pm.  The winner will be announced shortly after and will have 48 hours to claim their prize or I will pick another winner.
Please Note: If you are reading this from an email or a reader please CLICK HERE to visit the post and enter the giveaway.
To enter just fill out the entry form below this way no one can see the answers.  That will make it totally fair!  Leaving a comment on this post will not count as an entry. If you can not see the entryPlease Click Here.
Disclosure
BJ's did not pay me for this post, nor did I receive anything other than the chance to sign up for the FREE 60 Day trial membership that I listed above.  I was not compensated in any other way to write this post.