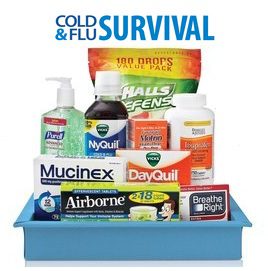 The craziness of the holiday season is over but now we have the even crazier cold and flu season!   The flu is now widespread in 47 states so make sure to stock up on necessary precautionary items and of course, at the first sign of a cold grab the necessary 'survival kit' items.
For this "Season of Sickness" protect yourself and your family with a helpful kit that will fill your medicine cabinet with up-to-date medicines and protection for any symptoms. The America Public Health Association recommends the following items and they can all be found at BJ's Wholesale Club:
Airborne
Dayquil
Nyquil
Ibuprofen
Throat lozenges
Purell
Tissues
Disinfecting Wipes
Humidifier
Breathe Right Strips
Decaf tea and liquids
Here are some Tips for the "Season of Sickness":
Check the expiration dates on all medicine and replace any that have expired.
Stop germs from spreading by using a disinfectant spray at home and at work and always wash your hands.
Run a humidifier to loosen congestion.
Get the right amount of sleep, eat properly and stay hydrated.
BJ's Wholesale Club has rolled out their first Digital Journal which includes $18 worth of coupons, smoothie and chili recipes, examples of how to use kale and easy de-stress and lifestyle tips. If you're not a BJ's member check out the one day savings pass included in the Journal. CLICK HERE to help BJ's by providing feedback on this new Journal for a chance to win a $25 BJ's gift card.