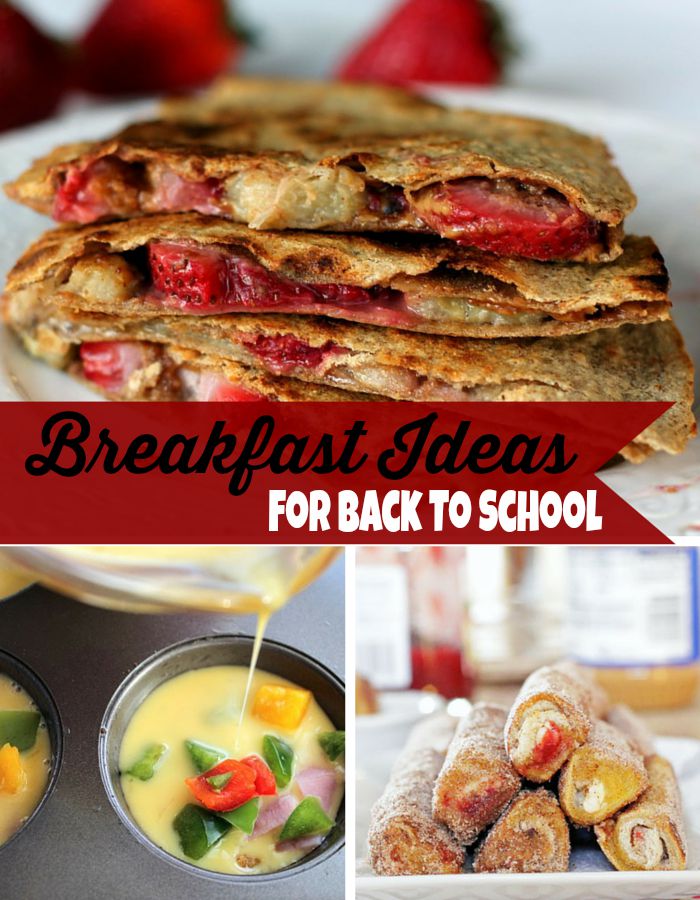 This week we are getting ready to go back to school.  While the kids pack their back packs, I'm planning our meals.  Once school starts, the craziness of the day gets in the way and I can't think straight.  This week I'll be sharing lots of meal ideas to help make back to school run smoothly in your house.
Breakfast is the most important meal of the day, especially when the kids are in school.  I make sure they have full bellies when they leave the house.  I like to come up with breakfast ides to surprise them and cook some of their favorites.  Especially when school is back in session.  If they have a good breakfast, they'll be in a good mood heading to school.
Check out these breakfast ideas for back to school that your kids may love!
Breakfast Ideas for Back to School
Breakfast Bars | My Kitchen Escapades – Instead of store-bought granola bar, try this recipe for a healthier back to school breakfast for the kids!
Peanut Butter and Jam Crepes | A Pumpkin and a Princess – If peanut butter and jelly didn't taste good enough already, these crepes will make it even more alluring!
Toad in the Hole | Leela Cyd – Surprise the kids with a quick and easy yet fun breakfast meal by making these toast and egg treats!
Cinnamon Sugar Pancake Rolls | Crazy for Crust – Instead of using syrup, nix all that sugar and use cinnamon for flavor instead!
Breakfast Cookies | Gold Medal – Give your kids a cookie in the morning and see their face light up.  Little do they know that it's packed with healthy ingredients!
Easy Pancake Bites | A Few Short Cuts – Try these instead of taking time to make traditional pancakes. Mix and pour in a muffin pan and you can eat on the go without syrup!
Banana Bread Granola | Minimalist Baker – This looks and sounds great! The taste of banana bread packed in to a healthy breakfast of homemade granola!
French Toast Roll-Ups | Cinnamon Spice and Everything Nice – These are heavenly little things, let me tell you. Add strawberries and cream cheese to French toast and make a personal size roll-up!
Pop-Toast | Parenting – This twist on toast and poptarts will allow you to make your kids' breakfast healthier while saving money!
Very Berry Breakfast Parfait | Parents – Make your kids a cute yogurt mixture while giving them a healthy start to the day!
Omelet Breakfast Bites | A Mitten Full of Savings – Omelets can be timely and hard to take on the go if you're running behind.  Try this quick twist on the traditional omelet!
Peanut Butter Strawberry Banana Quesadillas | Ambitious Kitchen – Peanut butter is one of my favorite foods and goes great with strawberries.  Together in this breakfast medley, they taste even better!
Banana Grape Dolphin Parfaits | Roxy's Kitchen – Make your kids' back to school breakfast fun by making these quick parfaits that resemble a dolphin!
Which one of these breakfast ideas will you try first?