We have 2 kids in college this year. One is in his 3rd year at Providence College and one is in her 1st year at Western New England University. They are both living on campus because we believe it will be a great experience for them, not just for the fun parts, but to help them grow up a bit and learn who they really are. It took our oldest two years to really enjoy being there, and now we hardly hear from him or see him!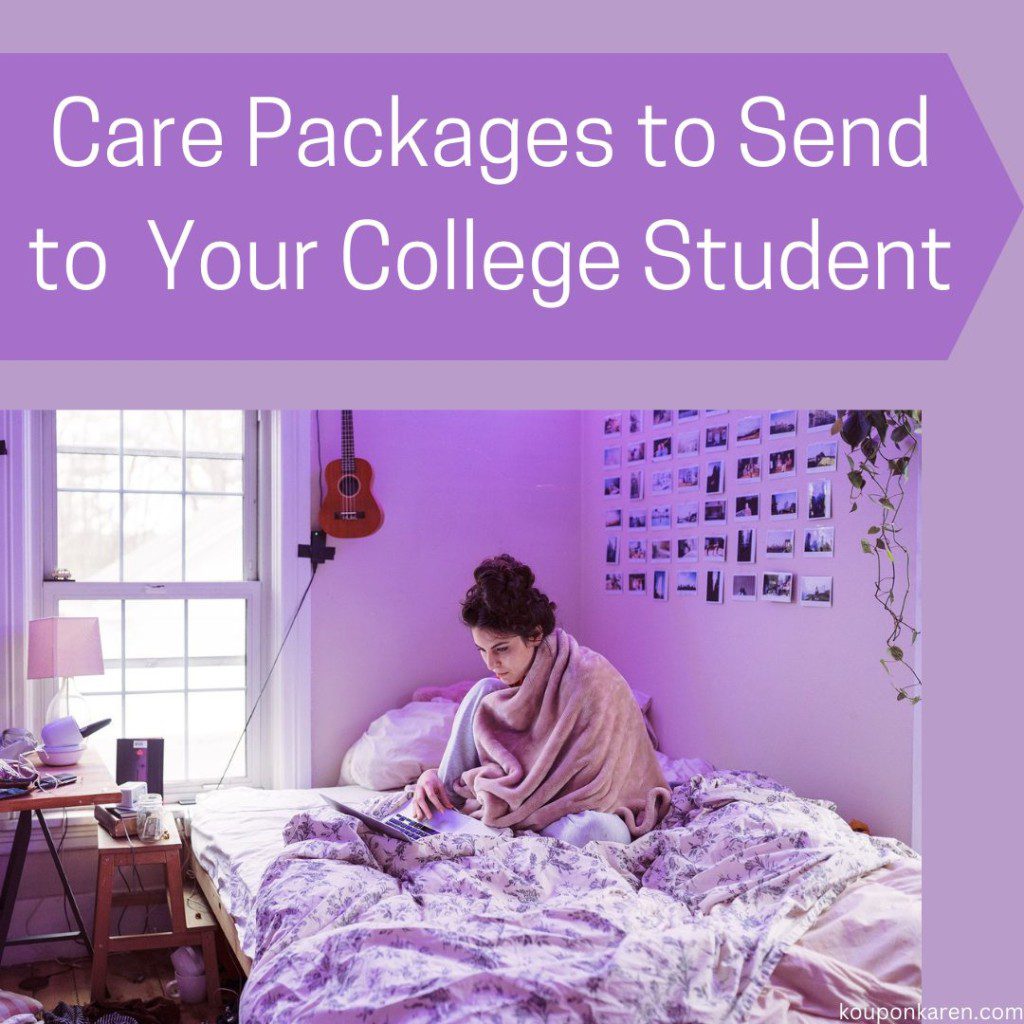 My daughter is trying to settle into school and make friends, but she's seeing that it's hard and lonely at times. She keeps asking me to send her a care package or something fun. She put together a list of ideas that she would love to receive in her college mailbox.
If you have a kid in college and want to send them a care package, here are some great ideas that they are sure to love!
Gift A Snack Care Package – 40 pack snack variety ($28.89)

CRAVEBOX Snack Box (50 ct)

–  variety snack box ($28.95)

Burt's Bees Back to School Pack

– includes lip balm, cuticle cream, hand salve, res-q ointment, hand repair cream, and foot cream ($25)

Brain Boost Care Package

– includes healthier alternatives for when studying, along with a few things to help study and products to prevent an illness before that big exam! ($39.99)

HugaBox "It's Time to Show Your Love" Care Package

– includes a little alarm clock, a throw pillow, chocolate truffles, and string lights to hang up photos of your loved ones ($39.99)

KIND Bar Gifting Cube

– fully customizable box of KIND Bars, 20-40 ct ($44.44 and $77.77)

Final Exams Gift Box

– a gift to help your college student destress before finals. Includes a soy candle, bath bomb, a box of matches, lip balm, fluffy slippers, and a scrunchie. Comes in a variety of colors and add-ons can be included (base price of $38.84)

You Got This Succulent Care Package

– this care package includes everything to make your own succulent terrarium: plastic planter, 1 zebra succulent, dirt, Spanish moss, drainage rocks, river rocks, colorful moss, and a little creature to place in your potted plant! ($19.99)

Monogrammed Teen Gift Set

– comes with a monogrammed beauty pouch, fluffy socks, lotion, hair coils, claw clip, and a notebook ($35.00)

Fall Vibes College Care Package

– A care package that includes cute fall-themed items, with the basic size containing a decorative ceramic pumpkin, a felt leaf coaster, a scented sachet, Barretts, 1 charcoal nose strip, Starbucks hot cocoa, breakfast cookies, 1 bag of assorted chocolates, and a personalized note card. (starts at $29.95)

Fun Flavors Box: College Freshman Survival Kit

– a survival kit for a freshman in college. Includes snacks, lifestyle items, hygiene products, tea and coffee, and time management tools ($39.99)

Freida and Joe Warm Vanilla Bath and Body Collection – body care items packed into a leather basket. Includes shower gel, bubble bath, and bath salts, body lotion, body mist, and bath bombs.