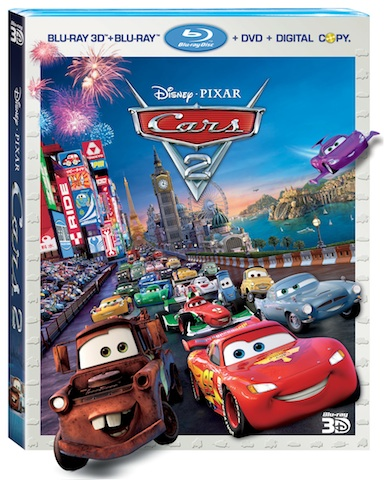 Product Name: Cars 2 Blu-ray + DVD Combo
Product Information:  Disney Pixar's fast-action summer hit "Cars 2" came home on Blu-ray Combo Pack, Blu-ray 3D, Movie Download and DVD November 1, 2011. Celebrating the 25th anniversary of Pixar Animation Studios, the high octane in-home release invites families and fans of all ages to come along on a journey around the world with the #1 animated film of the year and introduces an exclusive all-new animated short "Air Mater," featuring the fan favorite character spinning his tales in an exciting adventure high above Radiator Springs. The must-own animated release also includes fascinating commentary from award-winning director John Lasseter and "Hawaiian Vacation," the delightful animated short that accompanied the film in theaters.
The immersive "Cars 2" bonus features include an one-of-a-kind interactive "World Tour" map that takes viewers through nine different locations, including those featured in the film and more. A global thrill-ride, it allows viewers to go behind-the-scenes with the Pixar artists and filmmakers as they circle the globe finding inspiration for the most international of all Pixar films to date. "Cars 2" is also the first Pixar film to be released in spectacular Blu-ray 3D.
The Cast
The film features an all-star vocal cast including Owen Wilson who reprises his role as hotshot race car Lightning McQueen. Larry the Cable Guy provides the voice of Mater (proprietor of Tow Mater Towing and Salvage), Lightning McQueen's best friend and the heart and soul of Radiator Springs. Bonnie Hunt is back as Sally, the baby-blue Porsche 911 Carrera whose motor races for Lightning. Acclaimed actor Michael Caine makes his Pixar debut as Finn McMissile, a top British spy who mistakes Mater for an undercover American agent with a genius disguise. Emily Mortimer brings charm, cleverness and cachet as Holley Shiftwell, a rookie field spy who knows every trick in the manual. Versatile actor John Turturro gives a free-wheeling performance as Francesco Bernoulli, the world-renowned Italian racing champ who is Lightning's chief rival. Tony Shalhoub, Joe Mantegna, Peter Jacobson, Jason Isaacs, Eddie Izzard, Paul Dooley, Cheech Marin, John Ratzenberger, Franco Nero and Vanessa Redgrave also lend their vocal talents. Real-life Formula 1 racing champ Lewis Hamilton and NASCAR racer Jeff Gordon add a touch of authenticity with their cameos in the film.
Product Price:
2-Disc Blu-ray Combo Pack (1 Blu-ray Disc + 1 DVD) – $39.99
2-Disc DVD Combo Pack (1 DVD + 1 Blu-ray Disc) – $39.99
5-Disc Blu-ray Combo Pack (1 Blu-ray 3D Disc + 2 Blu-ray Discs + DVD + Digital Copy) – $49.99
11-Disc 3-Movie Blu-ray Combo Pack "Collector Set" – "Cars 2," "Cars" and "Mater's Tall Tales" –  $119.99
"Cars" (1 Blu-ray Disc + 1 DVD + Digital Copy) –  $29.99
Movie Download in High Definition – $39.99
Star racecar Lightning McQueen and the incomparable tow truck Mater take their friendship to exciting new places in "Cars 2" when they head overseas to compete in the first-ever World Grand Prix to determine the world's fastest car. But the road to the championship is filled with plenty of potholes, detours and hilarious surprises when Mater gets caught up in an intriguing adventure of his own: international espionage. Mater finds himself torn between assisting Lightning McQueen in the high-profile race and towing the line in a top-secret mission orchestrated by master British super spy Finn McMissile and the stunning rookie field spy Holley Shiftwell. Mater's action-packed journey leads him on an explosive chase through the streets of Japan and Europe, trailed by his friends and watched by the whole world. The fast-paced fun includes a colorful new all-car cast, complete with menacing villains and international racing competitors.
My girls LOVE Cars and were super excited to get Cars 2.  Of course they had to watch it immediately and were easily drawn in by it's magic.  I love how they are entertained and at the same time learn lessons that help them in life.  I  know sounds silly, but as a mom I'm always looking for ways for them to learn and when movies like this can teach them about different parts of the world.  They loved how the cars were in Japan and Europe.  They have no clue where they are, but because my husband travels over seas, they are always interested in learning where he goes.  So we pulled out the world atlas and showed them where Japan and Europe were and we talked about the things that were different there.
My oldest daughter remembered seeing a film about Japan on our recent trip to Disney's Epcot so that tied it all together for her.  Like I said, it's cool when fun things for them, turn into something educational.  That's a win/win for mom and dad!
Purchase Information: You can purchase it where movies are sold and online at Amazon
.
Disclosure: I received the a FREE product for review. My opinions are 100% mine.