It's that time of the year again when everyone you run into seems to have a cough or a runny nose so you may want to take a look at this Chestal Deal at Walgreens.   It's so hard to avoid right now.  I'm waiting for my turn because it always  hits me and that's when I want something that helps me feel better fast.  Chestal which is made by Boiron,  says it'll temporarily relieve cough due to minor throat and bronchial irritation, which may occur with a cold.  It also helps loosen phlegm (mucus) and thin bronchial secretions to make coughs more productive.  And wouldn't know you, I found a deal on it!
Chestal Deal at Walgreens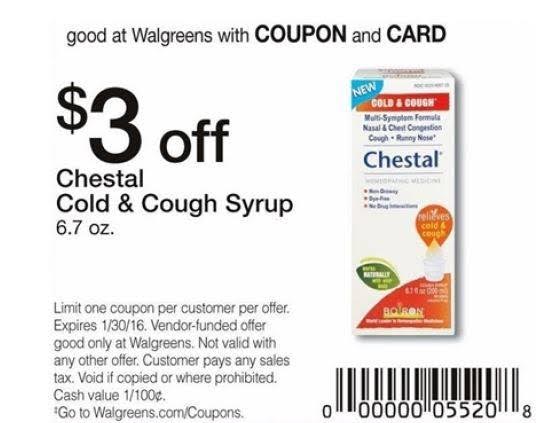 Now through January 30, 2016 you can save $3.00 off Chestal Cough & Cold Syrup for adults and Children's Chestal Cough & Cold Syrup at Walgreens with the in store coupon and your card.   You can find the coupon in the Monthly Saving Book in store or on the Walgreens website.
Save even more
You can save even more when you pair up the store coupon with….
Chestal has no artificial colors or flavors and is honey based.  It relieves all types of the common cold and is good for children ages 2 and over.
You can find more information about both of these brands on the Boiron Websites – Chestal and Children's Chestal.