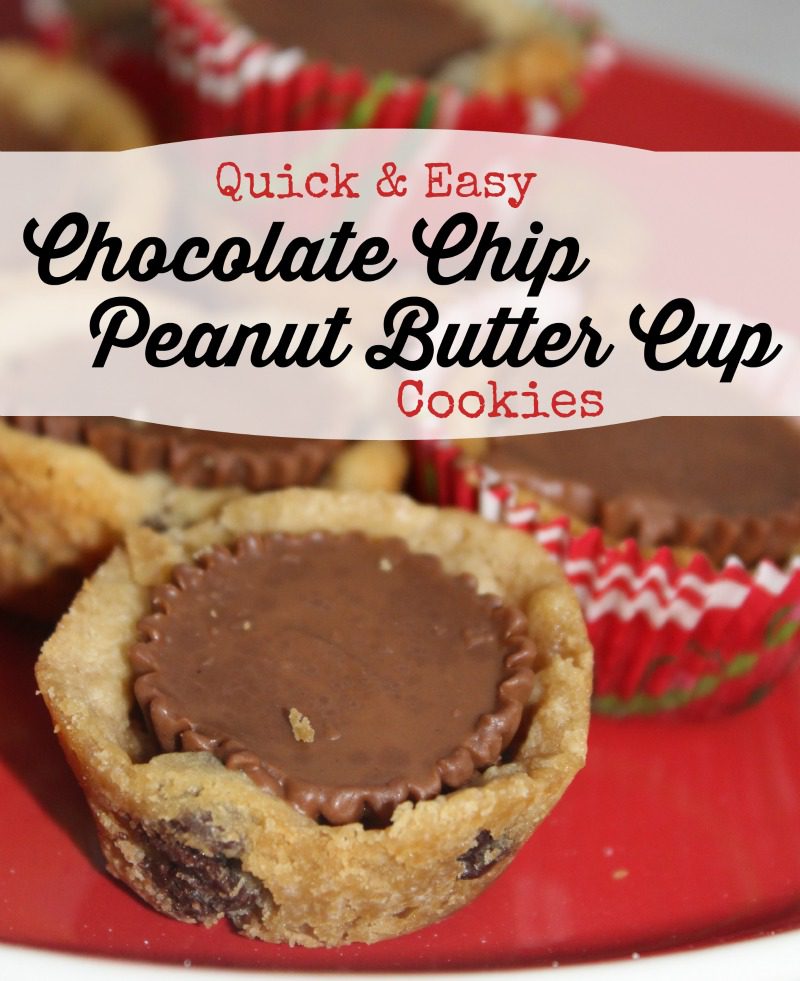 If you have a peanut butter cup lover in your house, you have to try these!!!
The best part is you only need 2 ingredients – premade chocolate chip cookie dough and Reese's mini peanut butter cups.    The only other thing you need is a mini muffin tin, some cupcake liners, and your oven!
Chocolate Chip Peanut Butter Cup Cookie Recipe
1 Premade chocolate chip cookie dough
1 bag of Reese's mini peanut butter cups
Directions:
Slice cookie dough in 1/2 slices.
Quarter each slice.
Place a piece of cookie dough in a mini muffin tin using mini cupcake liners (or spray your pan generously with Pam so they pop out easily)
Bake on 350 for about 7 minutes or until the cookie starts to firm up.
Immediately place a mini Reese's peanut butter cup into each cookie pushing down so the cookie 'hugs' the candy.
Set the entire pan on a baking rack to cool completely for about an hour or place in the fridge to cook quicker.  Do not remove the cookies until all the chocolate hardens.
That's all!
These cookies are the best I've ever had.  We love the combination of chocolate chips and peanut butter and the way the two flavors mix together in your mouth is just amazing!!!  You have to try them.  And of course, let me know what you think!
I love making cookies for Christmas.  And my friends also love when I make them and share them!!  I spend either 1 full day just baking cookies or 2 half days but either way, it's a time I look forward to every year.  I make about 7-8 different cookies and a lot of each!  These are one of my favorite ones to make, not just because they are delicious but they are also super easy to make.  They are the perfect cookie to cook while waiting for that cookie dough that needs time to firm up in the fridge!
Make sure you check out my other cookie recipes.