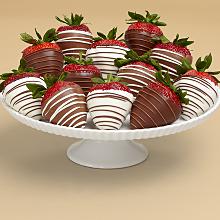 Mother's Day is coming and it's coming fast.  This year it's smack dab in the middle of a bunch of First Communions for our daughter and 2 of our friends kids.  Normally for Mother's Day we invite both our parents over and have a nice BBQ.  It pretty much covers Mother's Day and Father's Day since they are all there.  It's really nice and I look forward to it each year.
This year because of the First Communions we are going to skip the normal get together and probably do something just the 4 of us.  Not sure what that is going to be yet, I'm hoping my husband comes up with an idea on his own. We shall see.  But as long as I'm with my girls, then it'll be a really nice Mother's Day.
I know some people aren't into the gift giving part of Mother's Day and that is perfectly fine.  Everyone does it the way they like.  But I would love some of these delicious looking Chocolate Covered Strawberries for Mother's Day.  Wouldn't you? Anything covered in chocolate is good in my book but I especially love strawberries with chocolate.  Berries.com has a great selection of these and more as an alternative for Mother's Day.  Sometimes this is better than Flowers or Jewelry.  (Yes I did say it was better than jewelry but please don't tell my husband!).
I love chocolate, always have, always will so something like these I could truly enjoy for Mother's Day.  And right now Berries.com has a lot of coupon codes to help you save on your purchase including $10 – $15 off a purchase of $39 or more.  Check out all the coupon codes HERE.