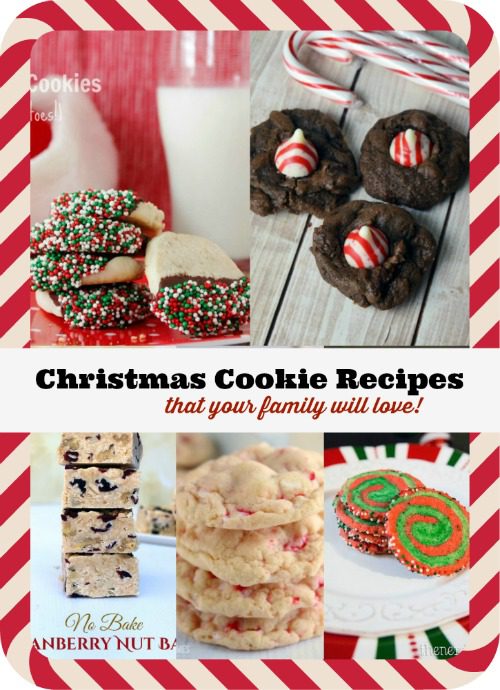 Yesterday was my day for making Christmas cookies.  I make about 8 different Christmas Cookies every year and give all our friends trays of cookies for Christmas.  I love to see their happy faces when I hand them a try, it always makes me feel good!  Besides the fact that I really enjoy baking them.
Here are some new recipes I found this year that I know my family would love and I'm sure yours will too!
Christmas Cookies
Chocolate Peppermint Kiss Cookies – These will melt in your mouth!
Delicious Secret Ingredient Cookies – Arts Crackers – This secret ingredient makes this cookie delicious!
Holiday Chalkboard Sugar Cookies – A Turtles Life For Me – A chalkboard cookie?  These could be a lot of fun to make and decorate!
No Bake Cranberry Nut Cookie Bars – Home Making Hacks –  No bake cookies are always fun to make while your oven is full of cookies baking!
Swirl Sugar Cookies – The Nerd Wife – My family loves sugar cookies!  This is a fun variation of their favorite cookie.
White Chocolate Peppermint Pudding Cookies – Here Comes the Sun Blog – Peppermint cookies are perfect for the holidays.  And these will look so pretty on your cookie tray!
Chocolate Crinkle Cookies – Thrifty Jinxy – These cookies are easy to make and look pretty too!
Nutella Blossom Cookies – Three Different Directions – My kids are on a Nutella kick and I know they will love these cookies!
Pink Peppermint Cookies – Midwestern Moms – These are cute and so easy to make.  The holidays are all about peppermint flavors!!
Peanut Butter Cup Cookies – A Turtles Life for Me – If your family loves peanut butter then these cookies are a must to try!
Which one of these Christmas Cookies will you try?