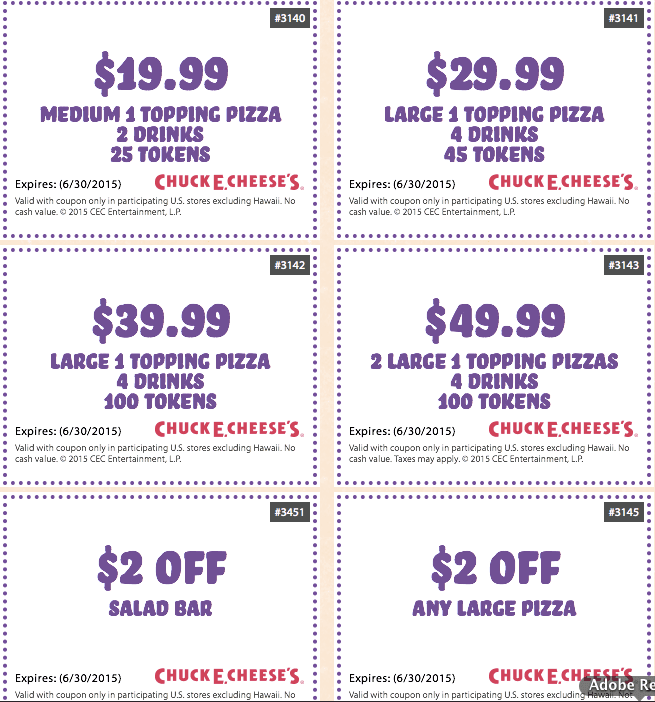 Chuck E Cheese Coupons
There are some NEW Chuck E Cheese coupons for the month.    The Chuck E Cheese coupons may change depending on the location you are visiting so head to the website and search for the one you'll be visiting to print your Chuck E Cheese coupons.
Print up to 10 coupons for use at Chuck E Cheese.  These coupons are valid through 6/30/15.  If these Chuck E Cheese coupons have expired already, check HERE for more Chuck E Cheese Coupons.
Join the Chuck E-Club and get:
Up to a 30% discount and our best token offers on your first coupon sheet (participating US locations)
A Chuck E-Club rewards calendar worth 10 free tokens
Exclusive access to the Chuck E. Story digital book to read to your kids
Plus, get members-only deals, kids' activities, and other perks every month!
Have a Birthday party at Chuck E Cheese.  Their parties are a rocking way for your kids to celebrate with Chuck E. Cheese himself.  All you do is relax and they do all the work.   We've had a few parties there for the girls and they really do all the work for you!  You get a dedicated person to run the party.  It's a lot of fun and no work for the parent.   If you book a party online you'll get 20 bonus tokens.
You can also host group events for your sports team, daycare, youth group, scout or any other kids' organizational event.   They even offer Fundraiser events for your school where you'll receive a 15% donation of all sales from the event.  They also work with non-profit organizations to help you raise money too!  Lots of options and they are all fun for the kids.
Chuck E Cheese offers free event invitations that you can print out or email to the guests!