Clock Work Roller Coaster Building Set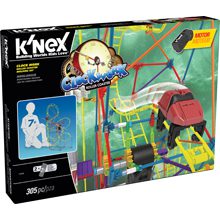 Here is a great gift idea for a kid who loves to build things.  K'NEX are great for kids ages 7 and up – boys and girls!
Tick, Tock goes the coaster car on the Clock Work Roller Coaster Building Set, from K'NEX. The hour hand inspired, motorized coaster car lift sends the coaster car up the track and down a ride full of twists and turns. This set comes with 305 parts, primarily rods and connectors, to build a K'NEX thrill ride! And if collect the Infinite Journey Roller Coaster Building Set and the Revolution Ferris Wheel building Set (sold separately), you can have a working amusement park right in your home!
This toy is  recommended for builders ages 7 and older and sells for $34.99.  You can find it in stores now!