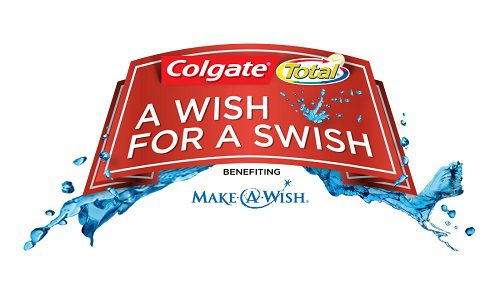 For those of you that live near NYC, on Tuesday, June 25th Colgate is having "A Wish to Swish" event in Time's Square to not only break a world record but also to raise money for Make A Wish Foundation.
They recently launched the new Colgate Total® Advanced Pro-Shield™ Mouthwash, and now they are hosting "A Wish for a Swish" attempt the GUINNESS WORLD RECORDS® record for the "Most people using mouthwash simultaneously." Sounds crazy and fun all at once, right? Yeah I thought so too. But they are going to donate $1.00 to Make A Wish Foundation for every person who attends the event.
Anyone can go and if you want to just head on over to the Colgate Facebook page and RSVP. CLICK HERE to do it now before you forget.   They are anticipating more than 1,200 consumers to be there.   And Colgate® hopes to create healthy and happy smiles by making a donation to Make-A-Wish® for every "swish" of mouthwash.   Should be a fun day.
Actress and TV host, Stacy Keibler, will join Colgate® as the event emcee, to help encourage healthy routines with new Colgate Total® Advanced Pro-Shield™ Mouthwash while rallying those in attendance to "swish" for a difference.
Event Details:
WHERE: New York's Times Square, Duffy Square, NYC (between 45th and 47th Streets, Broadway and Seventh Ave)
WHEN: Tuesday, June 25, 2013 at 11:00 AM ET
Colgate® will kick off this event with a donation of $50,000 to Make-A-Wish®. In addition, the brand will donate $1.00 (USD) for every participant in attendance and for every "post-swish" smile uploaded to the Colgate Facebook page. For more information on Colgate Total® Advanced Pro-Shield™ Mouthwash, please visit www.colgatetotal.com!