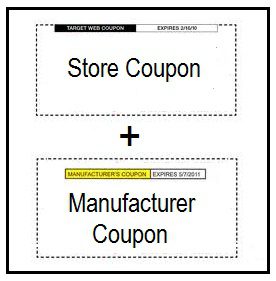 Using Manufacturer & Store Coupons Together
There are two basic types of coupons – Manufacturer Coupons and Store Coupons and when you know the difference between them and how to use them, you'll open up an entire new world of using coupons.  Did you know that you should be Using Manufacturer & Store Coupons Together?
What are Manufacturer Coupons? These are coupons that are issued by the manufacturer  – or company – and can be used in any store that accepts manufacturer coupons.  These are the coupons you'll find in the Sunday inserts, in magazines, on the shelves and online.  They will always have a bar code on them and will state on coupons "Manufacturer Coupon".
What are Store Coupons? Store coupons are coupons that are issued by a specific store and can be used only at that store.  They may not have a bar code, but most of them will.  The bar code may consist of numbers and letters where as a manufacturer coupon will only consist of numbers.   It will have the store logo or name on it somewhere so you'll know what store it's from.  You can find Store coupons in the stores, you may get them mailed to your house, in your email, on their websites and they may even be in the Sunday inserts or Magazines.
Using Manufacturer & Store Coupons Together
The best thing about these two coupons is you can use them together on one item!  If you have a manufacturer coupon for something and you have a store coupon for the same product, you can use both those coupons when purchasing the product to save even more.   If the item is on sale, you'll get an even better deal.   This is called Stacking Coupons and you'll always save more money when you can stack.

Looking to learn more about couponing? Check the Coupon Basics for more helpful information. More will be added over the next several weeks.