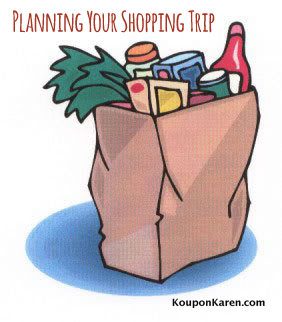 Planning Your Shopping Trip
You can have all the best coupons, but if you don't use them then they aren't any good to you, are they? Planning your shopping trip is very important.   But if you have them, you want to use them, right?  And the best way to use them is to plan your shopping trip and choose the coupons you want to use, before you go to the store.
Planning your shopping trip will accomplish many things but it will help you to become a successful coupon user.  By planning ahead of time, you know exactly what coupons you will use and you'll have them there with you.   Make a list of the items you want to purchase, then go through your coupons and pull out the ones you'll use on that shopping trip.  Then leave the rest home!
Planning your shopping trip means NOT taking all your coupons with you to the store.  By not taking them all with you, you won't overwhelm yourself and spend too much time in the store.  If this takes too long, you may not do it again.  It's OK if you don't get that item you saw on the clearance rack because you didn't have the coupon to go with it.  It wasn't in your plan anyways and you can always go back and get it next time.
Planning your shopping trip will also help you stay within your budget.  If you only have "X" dollars to spend, and you plan before hand what you are going to buy, then you know you'll be sticking to your budget.   It will help avoid impulse buying which is always a budget killer.
(yes, I did mean to write X dollars to spend, that wasn't an error!)
Planning your shopping trip will ensure you use the coupons you've been spending so much time collecting, sorting and organizing.  It will prepare you also for the check out process so you don't find yourself looking for coupons, or taking things out of your order because you've run out of money.
What else will planning your shopping trip accomplish?  I'd love to hear your thoughts!
Looking to learn more about couponing? Check the Coupon Basics for more helpful information. More will be added over the next several weeks.
( image source )