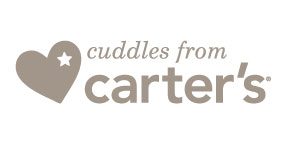 Cuddles from Carter's, is a program that provides clothing to children in extreme need.  As part of this program, Carter's has committed 50,000 pairs of pajamas, valued at $500,000, to the Pajama Program, a national non-profit organization which delivers new pajamas and books to children in foster care, temporary housing or homeless shelters. Carter's is also reaching out to its customers to raise awareness about Pajama Program's mission and give them the opportunity to help.  Starting Oct. 3, customers who shop at a Carter's store or online at carters.com can help the Pajama Program by adding a donation to their purchase upon checkout. All customer donations will go directly to the Pajama Program.  In-store donations can be made through Oct. 17; online donations continue through Dec. 31. Donation amount options are $1, $3 and $5 when customers shop at a Carter's store, and $1, $5 and $10 online at carters.com.
Visit www.carters.com/cuddlesfromcarters to donate and find store locations near you, and www.pajamaprogram.com to learn more about the Pajama Program. "Like" Carter's on Facebook to stay up to date on the Cuddles from Carter's program and learn more about upcoming promotions.
To help you save, use code PJFUN when shopping online at carters.com and save 20% off a purchase of $40 or more!  This coupon code is good till October 17th and is only valid on Carter's products.  You can NOT stack it with any other offers.