I had some extra bucks to spend from last week so I headed out with my list in hand this morning to snag me some good deals.  I did exactly that!  Here's what I got.  I spent $4.24 (half of that tax) and saved $50.35 for all of this: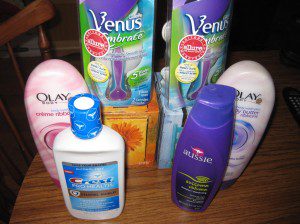 I split this into two transaction so I could roll my ECB's
#1
(1) Aussie, $2.99
Used $1.00 cpn
(1) Crest Rinse, $3.50
Used $2.00 cpn
Used $3.00 ECB's
Total OOP: $.94
Total Saved: $8.89
Get $3.50 & $2.00 ECB's
#2
(2) Venus Embrace, On Clearance $6.00 each
Used (2) $2.00 cpns
(2) Olay Body Wash, $6.49 each
Used FREE wyb Venus cpn
(2) CVS Tissue, On Sale $.99
Used $1.00/2 CVS cpn
Used $3.50 ECB's (from above transaction)
Used $4.00 ECB's (from last week)
Total OOP: $3.30
Total Saved: $41.46
And I still have $2.00 ECB's for next week!
So how did you do??