For those of you that are looking for some last minute Home Decor or Gift Ideas for Valentine's Day, don't forget about CVS!  As you know they are one of my favorite stores and I always find great items at awesome prices!
CVS has a great variety of items for Valentines day from luxury bath robes and designer fragrances, to gadgets, electronics, plush animals, chocolates, cards and more, CVS/pharmacy has something for everyone.
Here are a few of my favorites: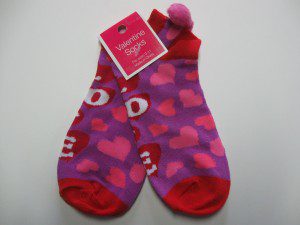 These cute Valentine Socks are only $2.50 and not only are they super cute but comfortable too.  I hate when socks are too thin and they slide down my feet as I walk.  Not fun!  These particular ones have a heart hang on the back.. really cute!   You could fill them with some candy for a simple yet affordable gift!  Or even a gift card!!!! You can pick up gift cards at CVS too including top retailers like Macy's, Gap, Dunkin Donuts, Nordstrom, Barnes & Noble, iTunes, Olive Garden, American Express and Visa.  And it's a practical gift!  I'm all about practical.  You could turn a simple thing like a pair of socks into a cute gift!  And you can't beat that price!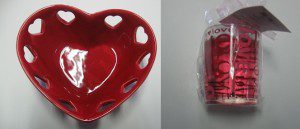 Or how about combining this adorable Valentine Scented Gel Candle, which is only  $2.99 and the Valentine Candy dish which is only $3.99.  Again you could grab a bag of candy, put the candle and some candy in the candy dish for a cute gift!    I love this dish and I'd keep it out all year long, not just on Valentines.  Red is my favorite color so that wins my vote all the time but I like how deep the dish is. You can't tell from the picture but it really is deep.  You could use it for more than just candy.  It could be used as a dip dish as well!   And the candle is super cute too.  It looks like colored water or gel inside!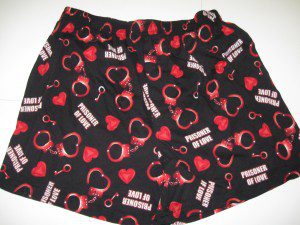 What about the Valentine Men's Boxers which are only $6.99.    The shorts are made of 100% cotten and they aren't just a novilty, they are nice boxers that your man will want to wear, not just for Valentines.   Again, something practical but yet says "I love you Valentine!".
CVS has so many more great ideas including an Essence of Beauty Luxury Bath Robe for only $14.99,  Essence of Beauty products starting at $1.99 and Valentines slippers for $7.99.  You can also create something personal like holiday greeting cards which start at $12.99 for a set of 20 or make a photo book which are priced from $5.99 to $14.99.   If you were looking to spend a little bit more you can skip the trip to the mall and splurge on a Craig 17" LCD Color TV for $199.99 or a Craig 7" Portable LCD TV with DVD player for $99.99.
….and we can't forget the chocolates.  They carry an assorted chocolates from Ferrero Rocher, Lindt, Ghirardelli, Godiva, Russell Stover, and Hersey's 2011 Valentine's Day Collection!!!
Disclosure: I received some products from CVS for my review.  This did not affect my review and as always my words are my own!