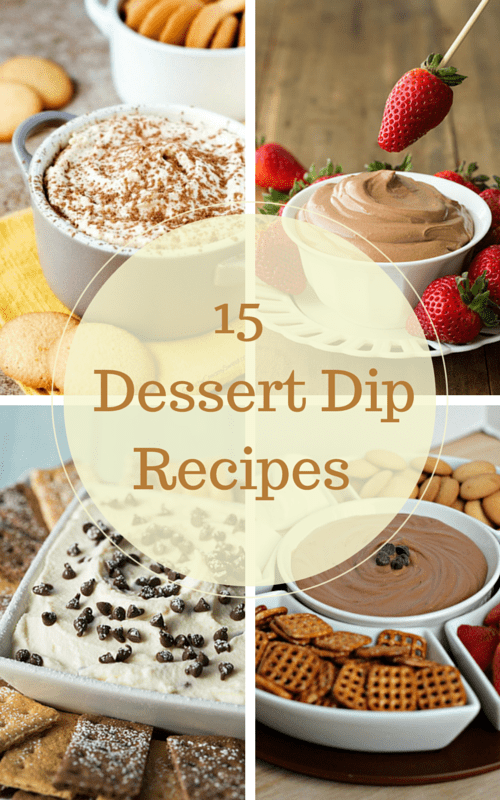 I've heard people say that they don't have much of a sweet tooth.  I can't even imagine not having a sweet tooth!  I love sweets and so does my family!  If you have any get togethers coming up, instead of bringing the usual desserts, why not try a one of these dessert dip recipes instead?  Here are 15 dessert dip recipes that are sure to please the sweet tooth in you!
15 Dessert Dip Recipes
Cheesecake Cake Batter Dip | I wash you Dry – I had to stare at this recipe for a bit because it just looked too good to be true.  I'll be hitting the treadmill for a bit tonight!
Canoli Dip | Cooking Classy – The best part of a canoli are the creamy insides.  Ditch the breading and just go straight for dip style!
Samoa Dip | Chef in Training – Who doesn't love those Girl Scout cookies with the coconut and caramel goodness wrapped around them?  At least I know they're my favorite! This dip is a perfect resemblance of those tasty little cookies!
Oreo Fluff | Chef in Training – As far as dessert dip recipes go – this one is golden!!  Whip cream seems to make everything better.  And then add Oreos?  OMGoodness!!!
Cotton Candy Dip | Dip Recipe Creations – This dip was a little worrisome to me at first.  I wasn't sure how I was going to feel about trying a dip that tasted like cotton candy since those textures seem way off.  It wasn't bad at all!
Tiramisu Dip | Crunchy Creamy Sweet – Coffee is a very popular flavor right now so it's safe to assume that this dip would go over great when serving to a large group of people.
Fluffernutter Dip | This Silly Girl's Life – This took me back a few years to when I was a little girl.  The flavors made it feel like it was my birthday all over again and my mom was spoiling me.  So, spoil yourself with this dip!
Toffee Dip | Lady Behind the Curtain – There's nothing better than adding a little crunch to a smooth mixture.  This dip almost feels like ice cream in your mouth without the brain freeze.
Chocolate Dips
Chocolate Chip Cookie Dough Dip | Brown Eyed Baker – Cookie dough is a favorite as well as a classic.  Why not turn it in to a dip as well?
Brownie Batter Dip | Stick a Fork in it – I haven't gotten the courage to show my husband this dip yet because we've been dieting and I know he will just swoon over this chocolaty dip!
S'mores Dip | Five Heart Home – This would be the perfect dip for a camping get together! Want something sweet but have limited resources? Grab your s'mores ingredients and mix this bad boy up!
Four Ingredient Nutella Cheesecake Dip – Nutella is popular among all ages and cheesecake just so happens to be too.  You've got a dynamite mixture with this dip!
Fruit Dips
Banana Pudding Dip | Dip Recipe Creations – My dad absolutely loves banana pudding. It's a light taste that's not overwhelming in flavor and is just rich enough that you don't want to eat too much.  This dip is no different!
Tropical Pineapple Dip | More than a Mom of Three – Having a summer Hawaiian themed party or do you just love pineapple?  Try this tangy yet sweet dip, it will please you no matter the occasion.
Lemon cream Pie Cheesecake Dip | Food Folks and Fun – It wouldn't be summer if someone didn't make a lemon dessert.  How about you try this lemon dip for your next summer shin dig?
Which one of these Dessert Dip Recipes will you try first?