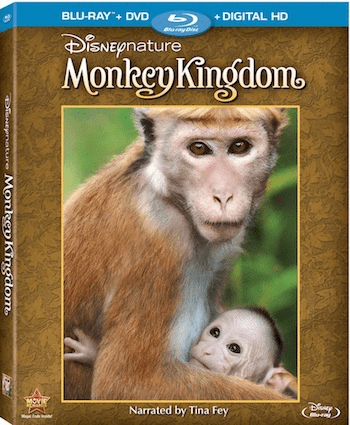 This week Disneynature released Monkey Kingdom on DVD & Blu-ray.  I love the Disneynature movies and we have learned so much from them.   Monkey's have always interested me, but I honestly had no idea their "Kingdom" was so political!  They look like cute little animals that love to jump around and play.
After watching Disneynature, I now know there is so much more to Monkeys and how they live.  There are upper class and lower class Monkeys and like in life, upper class rules the roast!
Disneynature Monkey Kingdom
From Disneynature comes MONKEY KINGDOM, a spectacular tale set among ancient ruins in the storied jungles of South Asia. Maya, a clever and resourceful monkey, and her family will make you laugh and warm your heart as she realizes her dreams for her son's future. Narrated by Tina Fey, own this breathtaking feature film on Digital HD, Disney Movies Anywhere (DMA) & Blu-ray Combo Pack on September 15. Enjoy this must-own film and Disneynature will donate a portion of first-week sales to Conservation International to help protect endangered species in their natural habitats.
Disneynature Monkey Kingdom Trailer
For more information on Disneynature Monkey Kingdom:
Website and Mobile Site
Facebook
Twitter
Instagram