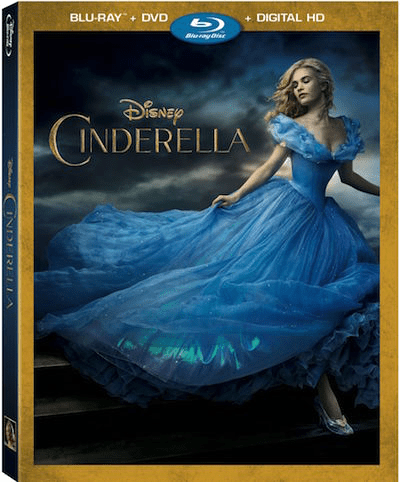 I have been a huge Cinderella fan since I was a kid.  If there's a Cinderella movie on, then I am there!  So needless to say when Disney released Cinderella earlier this year, we were there opening weekend!  And now I'm excited to add it to our Disney home library!
Not only are the girls excited to be able to watch this whenever they want, but they get to see Frozen Fever too which of course, they loved too!
Add Cinderella to your Home Movie Library in September
Disney's beloved and empowering fairytale told in a new beautiful way, Cinderella, arrived on Blu-ray Combo Pack, Digital HD and Disney Movies Anywhere September 15th!  The bonus features includes over 12 minutes of additional scenes, the " Frozen Fever" theatrical short and more!
Alternate Opening – Ella's Childhood from Disney's Cinderella: 
About Cinderella
Celebrate Disney's "Cinderella," a modern classic that shines with beauty, imagination…and magic! Despite being mistreated by her stepmother (Cate Blanchett) and stepsisters, a spirited Ella (Lily James) resolves to take charge of her fate. Add a royal ball, a Fairy Godmother (Helena Bonham-Carter) and a glass slipper, and suddenly – magic becomes reality!
This is one of my favorite Cinderella movies to date.  Lily James was the perfect actress to play Cinderella and Cate Blanchett hit it out of the park with her role as stepmother.
Bonus Features include Frozen Fever, the Theatrical Short, A Fairy Tale Comes To Life which is reflections from film makers and stars, Staging the Ball which is really cool because you can see how they put together the ball sequence, Ella's Furry Friends which is about the animal stars and how that part worked and the Alternative Opening of Ella's Childhood which you can see a clip of above.
We love the bonus material as my girls are so intrigued at how movies are made and the thought process that goes into them.  And they just love to see parts of the movie they didn't use so they can absorb more of the movie!
You can find this in stores where movies are sold right now!