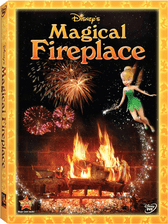 Product Name: Disney's Magical Fireplace DVD
Product Information: "Filled with Disney Magic, it's nothing you've ever seen before! Look for hidden Mickeys and other favorite Disney characters as they mysteriously appear in the shadows. Everyone will "ooh" and "aah" as the glowing red flames dance to a symphony of fireworks, shimmering colors and spectacular surprises like only Disney can bring. How many classic Disney characters can you find?
Choose from classic holiday music, with two beloved songs performed by Disney characters, or the snap, crackle and pop of a roaring fire! So wrap up the season with Disney's Magical Fireplace – it's the perfect way to say welcome home any day of the year."
My Thoughts: We took a trip to Disney this past fall and while there, we learned about Hidden Mickey's and searched the park for them. The girls had a great time looking for them – and good eyes too! They found many we had no idea where there. So when I saw the Disney's Magical Fireplace DVD and read that it had hidden Mickey's in it, I had to have it!
We popped it into the DVD player on Christmas Eve and watched it for about an hour. My mother in law didn't quite get the idea of a fireplace on TV, but I explained to her that it was all for ambiance. I love watching a fireplace and we never light ours so we loved it! The music was very entertaining and watching the character's appear and then disappear was fun. The girls found a few hidden Mickey's, well my husband found them and pointed them out, but they were just as excited.
I would definitely put this on when we have company over. I think it would be a great conversation piece and make the room more comfortable, even without the warmth from the fire.
WIN IT
(1) Koupon Karen reader will Disney's Magical Fireplace DVD.
To enter the giveaway, use the rafflecopter widget below. You can now sign in with Facebook and it will remember you each time you enter another rafflecopter giveaway. Of course Facebook is in no way associated with this giveaway, the people of rafflecopter just want to make it easier for you to enter giveaways now. If you aren't sure how to use the Rafflecopter Widget, check out my friend Nicole's post about using the widget to enter giveaway's. She did an awesome job of explaining it!
As a reminder, comments left on Facebook or Twitter will not be included.
Disclosure: I received the same prize as the winner for review. My opinions are 100% mine.