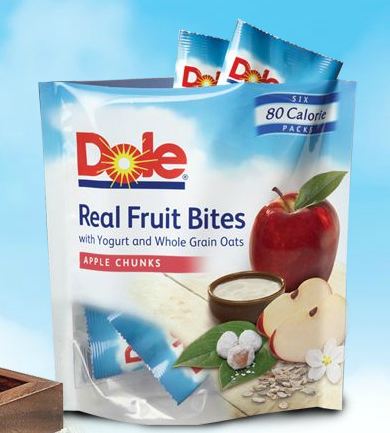 Product Name: DOLE® Real Fruit Bites
Product Information: Are you looking for good alternatives to the traditional candies and sweets to pass out for your trick or treaters this Halloween (or maybe something you won't feel guilty about grabbing)? DOLE® Real Fruit Bites are the perfect naturally sweet, on-the-go snack, combining three healthy favorites – fruit, yogurt and whole grain oats – into one delicious taste. Every bite-sized piece is made from real Dole dried fruit, coated with yogurt and sprinkled with toasted whole grain oats.
DOLE® Real Fruit Bites come in three delicious flavors – apple, pineapple and mango. Each single serving pouch has 90 calories, zero trans fat and is a good source of vitamin C, making it an ideal, healthier alternative to candies and chocolates this ghoulish season. Snack on them any time!
My Thoughts:  My girls love candy but at this time of the year they get so much of it! I'm always excited when someone puts some pretzels or even popcorn in their trick or treat back. And since they are in their trick or treat bag, they are excited to get them!
That's why I was super excited about the Dole Real Fruit Bites because I think they are perfect trick or treat items and my girls loved them! Their favorite was the apple bites but my favorite was the pineapple bites. They are a nice treat on their own or mixed into trail mix. I really hope they receive some of these tonight when we go trick or treating. But I certainly will purchase them again. They are a great, healthy snack!
Disclosure: I received the above Free Product for review. My opinions are 100% mine.