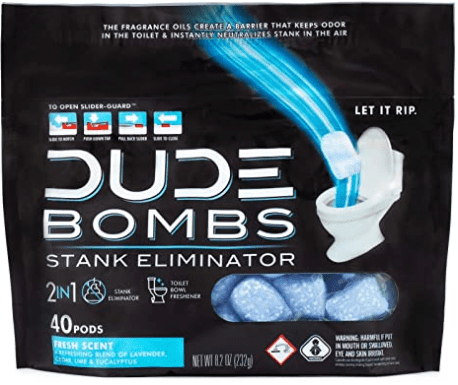 Dude Bombs Stank Eliminator
I'm going to start sharing with you some Fun Finds that I come across.  You know, things you don't NEED but might want to HAVE. 🙂  Here is my first one!
Have you heard of Dude Bombs Stank Eliminator?  I came across them on Amazon before Christmas.  I was looking for something unique and fun to get for my husband.  I searched for stocking stuffers for men and this came up.  So basically if you live with a man you need these for your bathroom.  Plop one in the toilet before he goes and the room smells like he cleaned it instead of stinking up the place.  They work amazing!  The smell is so fresh and it masks any other odors really well.
"2-in-1 Odor Elimination: No more nostril piercing matches or air fresheners that only mask poo stank, DUDE Bombs create an indestructible barrier that freshens your toilet bowl and instantly neutralizes stank in the air. Refreshing Scent Blast: Take it to hole with a refreshing blend of fragrance oils that radiate lavender, cedar, lime, and eucalyptus."
We have a bathroom attached to our bedroom so these are a necessity in our house.  These Dude Bombs Stank Eliminator pods are also great if you have a bathroom off of the kitchen.  I'll be ordering more of these.
Don't have Amazon Prime?
That's ok you can Try Amazon Prime 30-Day Free Trial to see what it's all about! If you decide it's not right for you, then you can cancel before your trial is up and pay nothing.
Some of my favorite benefits of Amazon Prime:
* Instantly watch thousands of movies and TV episodes
* Borrow Kindle books
* Get unlimited FREE two-day shipping (no minimum order size)