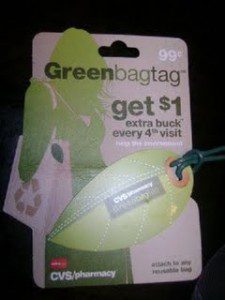 CVS has decided that want to encourage us to shop with reusable bags.   You can purchase a bag tag for $.99 and then attach it to your reusable bag.  Every time you shop have them scan the tag.  Every 4th shopping trip you will earn $1.00 ECB's!
It's seems you can only get it scanned once per day so if you do more than one transaction only one will count.  To bad it wasn't for every bag but even still, if you are already using reusable bags, why not get some ECB's for it!
thanks Couponing to Disney!