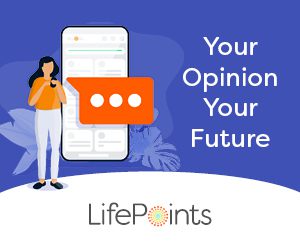 If you are looking for little ways to earn some cash, taking surveys is a good way.  LifePoints is a site where you can earn points for taking surveys (average of 20 mins) that you can then cash in for gift cards or Paypal.   You won't make a ton of money but if you take surveys in your spare time, it can add up!
I like doing these surveys while I watch TV, waiting in line at school pick-up, while waiting at appointments, and even in line at the store!
You just need your email address to sign up. Once you verify your email, then you can build your profile so they can match you with surveys. It's pretty simple.
You can cash out when you have 500 points ($5.00) and you'll get 10 points when you join!  Sign up HERE.