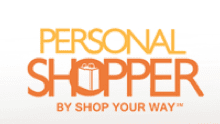 A couple of weeks ago I told you about how you can earn points with the Sears Shop Your Way Rewards and then use those on your purchases to reduce your out of pocket expense.  I hope some of you have earned since then.  But Sears has another program I also want to share with you and it's perfect for the upcoming holiday season.  It's called the Personal Shopper program and basically you become a personal shopper for your family and friends and earn commissions at the same time!
This could be easy money through the holidays for you and you can help out your friends and family at the same time.
How it works is first you sign up to become a Personal Shopper.  Then you recommend items through your Personal Shopper homepage from Sears, Kmart, mygofer, Craftsman®, Lands' End and Sears Outlet.  You add your friends as "clients" and when they  sign up as your client (they must have a Shop Your Way Rewards account) and make qualifying purchases from your recommendations using their Shop Your Way Rewards number, you earn 1% of the qualifying amount.   You both must be part of the Shop Your Way Rewards program which you can read more about HERE.
1% may not sound like much but it'll add up over time.  This is perfect for those family members that ask "What can I buy the kids for Christmas?" or "What do you want for Christmas?".  Add them as a client, add your suggestions and when they purchase your suggested items you'll earn.  They will automatically send you a check once a month once you earn $20.
To start, head on over HERE to request a Personal Shopper Invite.