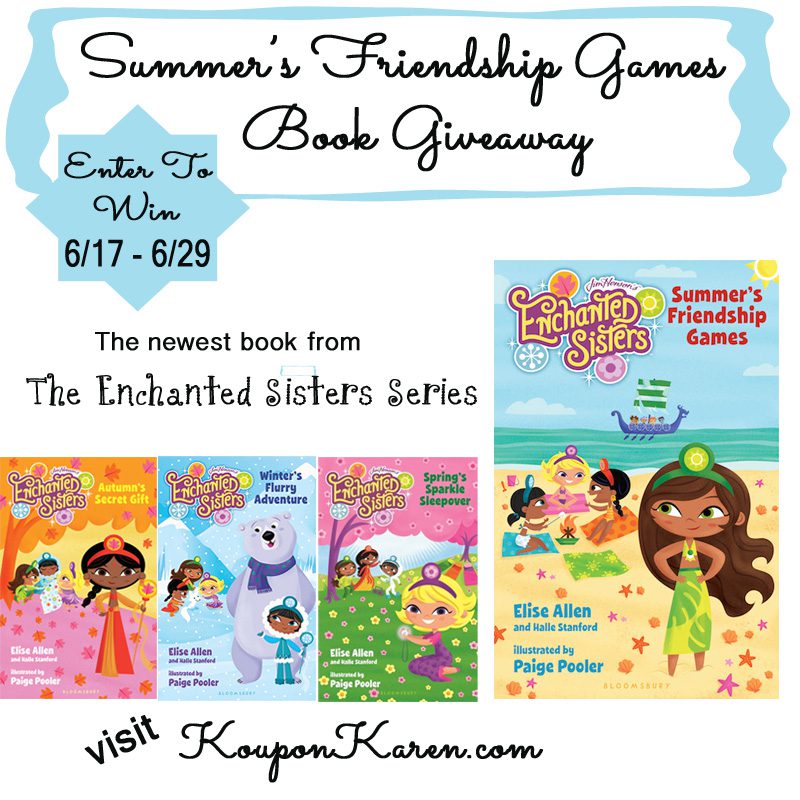 This post is Sponsored by The Jim Henson Company but my opinions are 100% my own!
The Jim Henson Company has teamed up with Bloomsbury Children's Publishing to offer us a giveaway copy of their newest book release, Enchanted Sisters: Summer's Friendship Games.
It is part of a series of books and my girls love them!
Autumn's Secret Gift
Winter's Flurry Adventure
Spring's Sparkle Sleepover
The new chapter book series, Enchanted Sisters, is for girls ages seven through nine.  They tell the stories of the four sisters known as the Sparkles: Autumn, Winter, Spring and Summer who come together every three months to join their Mother Nature in a ceremony that changes the seasons in our world. Their world is magically different from our own, yet the Sparkles are completely relatable. They are confidently themselves, even when that's the hardest thing to be. Continuing the longstanding Jim Henson Company tradition, the message in these stories about strong girls making bold choices are clear: embrace and celebrate our differences; anyone can be a hero; and families come in lots of different packages.  The books are co-authored by Elise Allen, author of the book Anna's Icy Adventure (Disney Frozen), and Halle Stanford, eight time Emmy-nominated children's television producer and senior vice president of children's entertainment at The Jim Henson Company.   Paige Pooler, whose artwork can be seen in American Girl magazine, and the Liberty Porter, Trading Faces, and My Sister is a Vampire middle grade book series, is the illustrator.
About Enchanted Sisters: Summer's Friendship Games
In  Enchanted Sisters: Summer's Friendship Games,  Summer has always secretly enjoyed hanging out with Thunderbolt, one of the mischievous Weeds who bring disaster and mayhem everywhere they go. Sure, the Weeds have acted poorly in the past, but they can't be all bad . . . right? Summer's sisters couldn't disagree with her more-especially after the boys ruin Summer's bonfire party. When the two teams of magical siblings try to settle their disagreements in a series of competitive sports, Summer and Thunderbolt are forced to stop talking. But is winning and siding with their siblings really worth ruining their friendship?
The hardcover book sells for $15.99 and the paperback book sells for $5.99.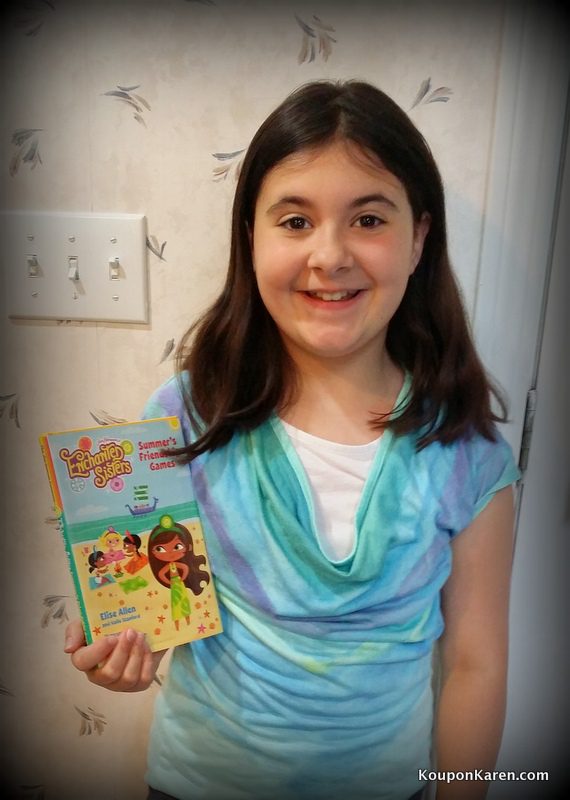 These books are fun light reading for the kids.  They will love the sisters and their stories.  I read all 4 books and they are great stories for my girls.  Even my 10 year old loved them.   Easy reading for the summer and the kids will enjoy them.  These would be perfect for summer reading!

(1) Koupon Karen reader will win the Enchanted Sisters: Summer's Friendship Games Book!

To enter the giveaway, use the Giveaway Tools widget below. Email and feed subscribers will need to click-through to the site to enter the giveaway.
As a reminder, comments left on Facebook or Twitter will not be included. You must follow the instructions on the widget about the proper way to enter. Of course Facebook is in no way associated with this giveaway!
If you are looking for more giveaways, be sure to follow my Fun Giveaways Pinterest board!
Disclosure: I received a Free product for review. My opinions are 100% mine.