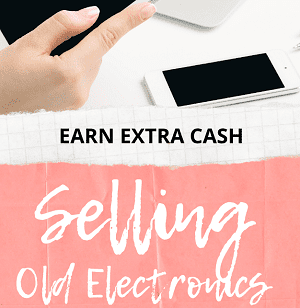 Right now many people are out of work that could probably use some extra cash.  Chances are you have things in your home you don't need or use anymore.  Those items are an instant payday!
Selling Old Phones and Electronics for Cash!
You may be sitting on quite a bit of extra cash right now and you don't even realize it. Look around your house for any electronics that you normally don't use.  I bet you have at least 1 sitting around in a draw.  I challenge you to look and I bet you find cash in a junk draw somewhere.  Cash in the form of an Android, iPhone, other smartphones, iPad, iPod, or a MacBook.
Here is an incentive to dig out those electronics:
The average American family has about 3 devices in their home worth over at least $200.  That is a lot of cash that you could be using right now, especially if you are out of work!  An iPad alone could get you over $400 from Gazelle if it's in good condition.  And if it's cracked you could still get over $100.  If you aren't using it, it's just cash sitting in your house.
An iPhone can earn you just as much.  An iPhone X, which is an older model that you might have in the back of a drawer somewhere, could score you about $200!  An even newer version, like the iPhone 11 could be worth closer to $350.
Visit Gazelle today to see what your device is worth.  They buy them from you and even pay for shipping.
Sell on eBay, Facebook Marketplace or Craigslist
If selling on Gazelle doesn't work for you, you can try selling your old phone or electronics directly on eBay, Facebook Marketplace, or Craigslist.  Selling on eBay is super easy, but you will pay fees.  You can offer free shipping to get more people to look at your item.  Either add the shipping cost into the price you list it at or take a loss for the shipping.  Taking a loss for the shipping at least gets it out of your house, and cash in your pocket.
When you sell on Facebook Marketplace or Craigslist, be careful when you met up for the exchange.  It is safer to meet in a very busy parking lot or at the police station.  I also always bring someone with me and never go alone.
You can make a lot of money selling old stuff around the house on Facebook Marketplace and eBay.  I have been pretty successful doing so and I've sold a phone on Gazelle too!
Let me know how much money you make Selling Old Phones!
Be sure to bookmark my Make Extra Cash Page.