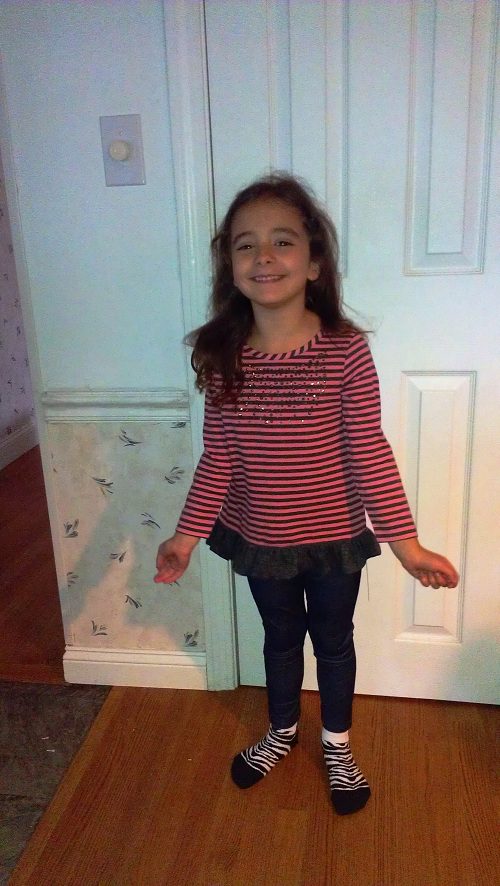 I wanted to remind you about FabKids where you can get your first 3 piece outfit for you daughter for only $25 plus you'll get a free Shirt with your first order.  That's 4 pieces for $25 which comes out to just over $6 a piece!  After that you can get a 3 piece outfit for just under $40 each month or cancel.  The choice is yours.  That is still only $13 a piece which is a pretty good price for good quality clothes.  I haven't canceled yet because I really like the outfits and next month I'm going to get one for my 7 year old.  Oh and Shipping is always FREE.
If you aren't sure take the Style Quiz – it's FREE with no obligation and then you'll see the styles they have and the outfits they put together for you.  You can change things around too if you don't like the outfits they choose – but I bet you do!  Click HERE to take the FREE Style Quiz to check it out.
We received our 2nd shipment from FabKids this month and I love it just as much as the first one.  This shipment included a cute top, some jean leggins (with pockets on the butt that my 5 year old LOVES!) and some cute Zebra socks.  (See the picture above) The quality of these clothes is outstanding and not cheap at all – the material is soft and they wash so well.
I heard that they are working on outfits for infants/toddlers and boys!
If you've purchased from FabKids let me know what you think!