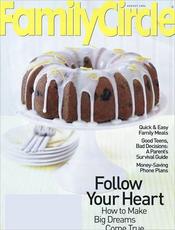 DiscountMags.com has another great deal!!!  You can get Family Circle Magazine for only $2.99 a year when you use coupon code KouponK.  This price is good up to 4 years so it's a great time to grab a good deal on this!!  And you're only playing $.19 an issue!!  And if there are coupons in each issue that you use, then it pays for itself!
SO you can see what a good deal you are getting, here are the prices broken down into years..
1 Year, 15 Issues –> $2.99
2 Years, 30 Issues –>$5.98
3 Years, 45 Issues –> 8.97
4 Years, 60 Issues –> $11.96
Offer expires Sunday, November 13th at midnight.
And if that still doesn't work for you, you can save 20% almost all other magazines with the coupon code KouponK.  Just add the magazine to your shopping cart, enter the coupon code and see if it takes 20% off!
thanks SheSaved!