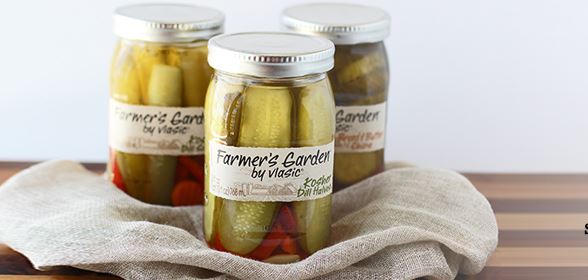 With summer just around the corner, if you haven't already, Farmer's Garden by Vlasic wants you to try their refreshingly simple, artisanal-quality pickles made with deliciously ripe cucumbers, whole garlic cloves, slices of red bell pepper, rounds of carrots, fresh herbs and spices, and no artificial flavors.
We've had these before and LOVE them!!  The combinations of the flavors with the added bell pepper, garlic, carrots and herbs and spices is amazing and it's like eating a 'fancy pickle', if there was such a thing.  And when I've pulled these out when we've had guests over, they all love them.  You can really tell they use all fresh ingredients as the pickles are crisp and firm!
Right now you can get a coupon for $1 off Farmer's Garden by Vlasic when you enter the Savor Simplicity Sweeps and also have the chance to win a summer entertaining package worth up to $1,500. The sweeps will run from May 7 – July 31 with one winner chosen each month.
You can learn more on the FarmersGardenVlasic.com website.  Good Luck!