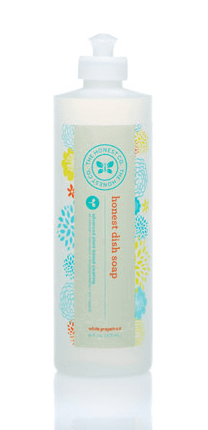 There is a new site I want to share with you – The Honest Co. – and it's owned by Jessica Alba and all the products are made with safe, natural chemicals.  If you check out the site you'll see they are priced pretty good too.  And if you set up auto-ship, you'll save even more.
You can find diapers, cleaners, bath & body items and so much more.  And when you sign up with The Honest Co. for the first time you'll receive a FREE $10 Credit towards your first purchase.  That could score you some free items too!
The Dish Soap is only $5.95 so you can grab it FREE with this credit! 
About Honest Dish Soap
Updated Scent – White Grapefruit
Easily penetrate foods, milk & formula residues, and general household messes
Virtually no streaking or spotting – just clean & shine
Hypoallergenic and free from synthetic fragrance, dyes, and worries
Ultra-concentrated formula with EXTRA suds
Works great as a general all-purpose soap for household chores – use on floors, wash the car or bikes, clean the dog, scrub the deck, or virtually anything a simple soap is needed
NO Harsh Chemicals (ever!)
All Natural / Non-toxic / Biodegradable / pH Neutral