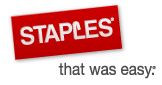 Staples has some more cool deals this week but the best one of all is you can get a FREE Refund on Peachtree Pro Accounting!!  That's an awesome deal!
Peachtree Pro Accounting 2010, $199.99
Get $34.99 instant savings
Pay $165.00
Send in $165.00 SCR
Final Cost: FREE after SCR
Now I know this is a lot of money up front but if you really want it, or need it I feel it's worth the short investment!
And all these items are only $1.00!! BUT you must bring in the coupon from your Sunday paper. The last time they did this they didn't have them in the store so don't forget.  (limit 1 per person)
BIC Matic Grip Assorted Mechanical Pencils, 5-pack
Staples Pull & Seal Envelopes, 25-pack
Staples Mini Stapler
Expo Fine Dry-Erase Markers, 4-pack
Staples Composition Book
Staples Hype Highlighters, 6-pack
Staples Binder Clips, 30-pack
Staples 1-Hole Punch