I made some Bingo cards for a Halloween party once using stickers and while it was fun to make (I had the kids each make up their own card) it was very time consuming and costly.  If you are planning a Valentine get together why not print these Valentine Bingo Cards for the kids instead of making some.  These will save you lots of time to make which means more fun with the kids.
FREE Printable Valentine Bingo Cards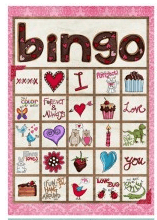 Thanks Simply Fresh Designs!
I love FREE Stuff – do you? Check out everything we've found in the Freebies Section