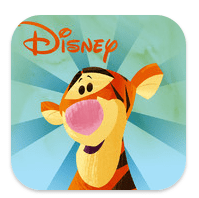 For generations, Winnie the Pooh has been the most loyal of friends, happy to share a jar of honey, lend a helping paw, and explore the Hundred Acre Wood with his pals for smackerels of sweets to sooth the "rumbly in his tumbly."
The app, Winnie the Pooh Wonder and Wander, is available for iPad, iPhone and iPod Touch and was created by Disney Consumer Products.  The app re-introduces Pooh's friends, including Tigger and Piglet, in the most immersive adventure to date.  Designed for children ages 1 – 3, the app features themed coloring pages, interactive puzzles, musical instruments and a matching memory game—focusing on parent-child entertainment that embraces the simple pleasures of life.
And the best part is the App is FREE!  Download it at iTunes today!