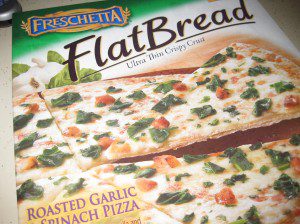 This is a Sponsored Post written by me on behalf of Freschetta. All opinions are 100% mine.
I was very excited when I was asked to review Freshcetta Pizza.  It's one of the frozen pizza's we've never tried before!   We only buy frozen pizza on occasion but when we do, we are looking for something yummy, not a piece of dry cardboard.
To help with our review, we received some coupons for FREE Freschetta Pizza and an awesome Pizza Stone, a Pizza Cutter and an Oven Mit.  The pizza stone is so big and I was really excited about that.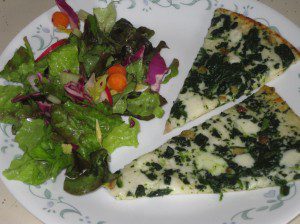 The first pizza we made was the Roasted Garlic & Spinach Freschetta FlatBread .  It looked so good on the cover of the box, I couldn't wait to sink my teeth into it.  The crust was really thin and once cooked it had a nice crunch to it, just the way I like it.  The flavor of this flatbread was amazing.  Every bite was full of an awesome garlic and cheese flavor.  It was amazingly delicious.  And with it being thin, I didn't feel so guilty when I ate the entire pizza when I had a few pieces.  Served with a salad, it was the perfect meal.
We also tried the Pepperoni & Cheese FlatBread and my3 year old gobbled it up and loved it.  My husband didn't like it so much because he likes a pizza with more of a crust.  I agree with him, I also enjoy a pizza with more of a doughy crust but the flatbread pizza is great when I'm looking for something different and not so bulky.   Freshcetta has a few varieties of pizza.  The next one we are going to try is the PizzaMore and I have a feeling my husband will like that one!
Print a coupon for $1.00/1 Freshcetta Pizza and give it a try for yourself and let me know what you think!