My friend Jen from Savoring The Thyme is going to be bringing us some delicious frugal recipes each week and this week it has a Superbowl theme.  These are the recipes she has selected to highlight with items that most stores will have on sale this weekend.   She creates all these recipes and does all the photography herself.  I get hungry just looking at the pictures!  And I would never in a million years think to pair Avocados and Mangos but I will be trying it this weekend for sure!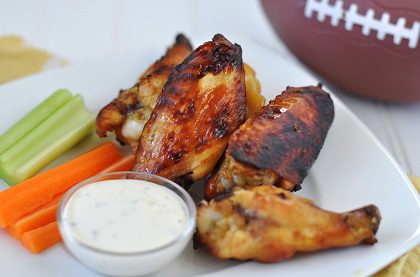 Photo credit Jennifer Leal.
We all know the grocery items on sale this week include chicken wings, avocados and chips in preparation for Superbowl Sunday. Therefore, I am here to share some of the best Superbowl Recipes & Snacks.
First up is my famous Sweet-n-Tangy Baked Honey Mustard Wings. Yup, I said baked but no worries, no special equipment needed and I promise they will be crispy.
Second, Creamy Mango Guacamole. Put a fun twist on this favorite Superbowl Snack by using mango.
Lastly, how about serving 'The Best Dip Ever' which is a guaranteed hit!  In fact, friends still demand it after 10 years of eating it! I recommend getting tortilla chips, especially the 'scoop' shaped ones.
Check back next week when Jen brings us more fun and easy frugal recipes to help you plan your shopping trip and keep within your budget!