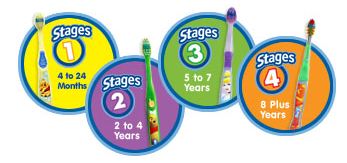 Valentine's Day is slowly approaching which means that the chocolate is in the stores, there are coupons for it and your kids ask for some each time they go shopping with you.  At least I know mine do.  It's great news for the retailers and the dentists, but not for your child's teeth!  Time to think about picking up Oral-B Stages Kids Toothbrushes and Toothpaste too!
It's a time to make sure they are brushing really good!
Did you know that Valentine's Day is the third largest chocolate candy-selling holiday, with Americans buying 48 million pounds of chocolate candy during the week of Valentine's Day. Further, in recent years, U.S. Census Bureau data indicates that Americans consumed 24.5 pounds of candy per capita during Valentine's Day. So, with children inevitably eating tons of sugary treats in the upcoming month of February, it's important to reinforce healthy oral care habits for children―so their "sweet tooth" doesn't turn into a "toothache."
Not to mention:
Tooth decay is STILL the single most common chronic childhood disease – five times more common than asthma and seven times more common than hay fever.
February is Children's Dental Health Month (CDHM), a perfect time to educate parents on the importance of children's oral health.
Oral-B Stages Kids Toothbrushes and Toothpaste
Oral-B recognizes the specific oral health needs of children at every age through the development of the Oral-B Stages line of products, which is designed to address children's unique needs — including dentition (formation of their teeth and jaw), dexterity (ability to handle a toothbrush) and development (emotional changes and interest) — as they grow.
Oral B sent my girls some toothbrushes and toothpaste to make brushing their teeth more fun.  Boy did it work!  My girls love anything fun and these toothbrushes fit the bill from princess's to Winnie the pooh, they were super excited when we received the box and immediately went to brush their teeth.  I'm thinking of mailing some new brushes to them once a month to get them excited about brushing their teeth.  I think it may just work!
Needless to say they fought over who was getting what toothbrush but with their ages being 2 and 5, it was clear who got what brush by the stages, thank you Oral B!
Age group: 4 months – 8+ years
Purchase Information: All Oral-B Stages manual toothbrushes, Stages toothpaste and Crest toothpaste are available at food, drug and mass merchandise outlets for approximately $3.29.
Oral B provided me with toothbrushes and toothpaste for my review. My words and thoughts are my own and have not been affected by receiving these FREE Items.