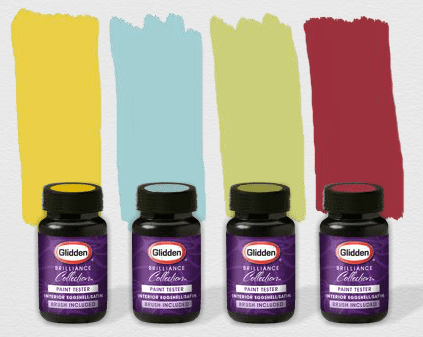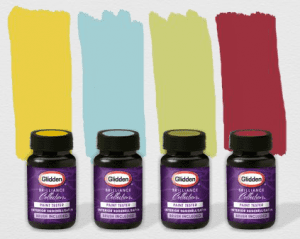 Product Name: Glidden Paint Testers
Product Information:  There isn't much you can get for less than a buck these days, but that is about to change. Right now you can get Glidden paint testers for only $.94 cents with the $2 off coupon available for download at Coupons.com. Whether you're looking for a new craft project idea for your kids or tackling a room makeover, Glidden paint testers — with their built-in brush and enough paint to cover three square feet – will come in handy.
The testers make it easy to experiment with different colors and see how they look with the lighting in your room before painting the entire room. In addition, the paint in the tester bottles can be used for smaller arts and crafts projects including:
Adding pops of color to a room with stencils such as stenciling your child's name on their bedroom wall
Decorating pillows or bookmarks made of 100% cotton duck fabric
Painting accent colors on a shelf or shadow box
Painting wooden trays, jewelry boxes, bird feeders, or any other wood products
Glidden paint testers are available in all 306 colors of the Glidden Brilliance Collection, sold only at Walmart.
Click below to print the coupon….
My Thoughts:  I love to paint in the house so these testers are very helpful to me.  Have you ever bought paint, painted the room and you thought it was the perfect color until it was on the wall?  I have.  My husband tried to tell me that the color I picked out wasn't going to be what I wanted after it was painted but I didn't want to listen to him.
But he was right.
I would of loved to have been able to test an area first before painting the entire room.  So these will definitely be on my shopping list before I paint next time.  And I love how cheap they are with this coupon so I may grab a couple before the coupon is gone.
They are also great for craft projects.  I've been trying to sit down the past couple of weeks to do a craft with the girls but we've been so busy and I was away for 5 days that we haven't found the time yet, but I wanted to be sure that you were able to print the coupon before it was gone.  I will share our craft project with you as soon as it's done!
Disclosure: I received a FREE sample for review. My opinions are 100% mine.