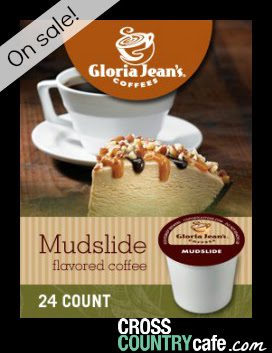 Gloria Jean's Mudslide K-cups only $.45 each at Cross Country Cafe

There is a NEW k-cup sale at Cross Country Cafe this week!
Right now you can get Gloria Jean's Mudslide K-cups for on $10.99 for a box of 24!  Doesn't that box make it look absolutely delicious?!  Gloria Jean's dessert inspired Mudslide K Cups bring you a medium roast coffee infused with the rich and creamy flavor of chocolate to give a moment of indulgence just when you need it.
Plus check out this ebook where you can save 10% off this purchase!
Check out the sale… HERE.  And when you spend $59 or more shipping is FREE!  So grab a friend and place an order!
This sale ends Tuesday 7/15/14 so SHOP NOW!