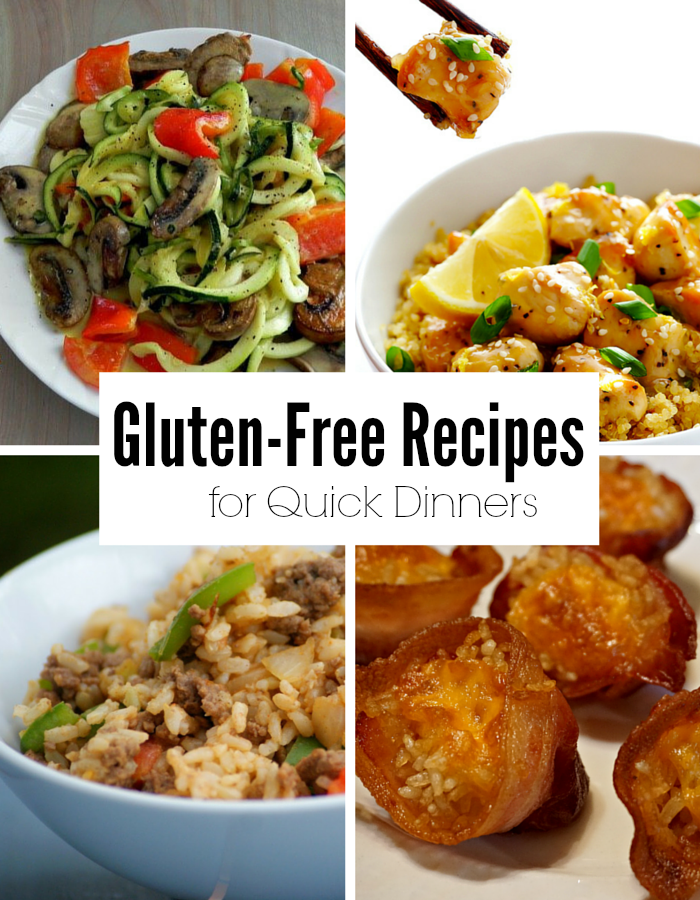 A lot of people are going Gluten-Free for one reason or another and if you cook a lot, it can really put a damper on some of your favorite recipes.  Below you'll find a list of 12 Gluten-Free Recipes that are quick and easy to make, which is perfect for the Back To School season!
12 Quick Gluten-Free Recipes
Honey Mustard Zoodles | Vegetarian Mama – This is a cute and very colorful quick dinner that is perfect for any gluten-free family on the go!
Black Bean and Beef Enchilada Casserole | Julia's Album – If you want Mexican night but don't have the time for it, try this yummy casserole that wraps all of Mexican cooking in to one dish!
Skillet Chicken Fajitas | Recipe Runner – Fajitas are so good and this is just a quick way of whipping some up for those who need to eat gluten-free!
Quick Tex Mex Sweet Potato Skillet | ifoodreal – Whip up this healthy meal in no time and have a nice Mexican touch to it! The avocado and sweet potato fit perfectly together in this dish.
Skinny Honey Lemon Chicken | Gimme Some Oven – Now, just because it says skinny in the title doesn't mean this meal is lacking in anything but gluten! The flavor is amazing and this is a solid meal that any Chinese food fan would be satisfied with.
Gluten-Free Pizza Biscuits | A Few Short Cuts – Make pizza in a personal biscuit! If you don't have time to roll out the dough, etc. just throw it in a biscuit pain and there you have it!
Gluten-Free Chicken Strips | Real Food RN – What kid doesn't love chicken strips? Not very many of them! So, use this chicken strip recipe that's free of gluten for your next quick dinner meal!
Broccoli Cheese Soup | Wonky Wonderful – Soup can sometimes take all day in the crock pot or involve simmering a long time.  However, this yummy healthy soup will only take 30 minutes to make which includes prep time!
Healthy Mexican Beef Rice Bowl | Southern In Law – Check out this tasty rice bowl packed with flavor and quick to make! You'll have dinner rolled out on the table in 15 minutes!
Cheesy Rice Filled Bacon Cups | From Val's Kitchen – These are cute and of course, it includes bacon so that's a huge plus!
Tuscan Pork Chops | Sweet C's Designs – Pork chops taste the best when made in a pan, in my opinion. They have such great flavors that come out and when you can add vegetables in, they pick up those savory juices!
Turkey Meatloaf Muffins | He and She Eat Clean – I love meatloaf and so does my husband. These little personal meatloaf muffins are cute and easy to serve and then save!
Which one of these Gluten-Free Recipes will be your next quick dinner?