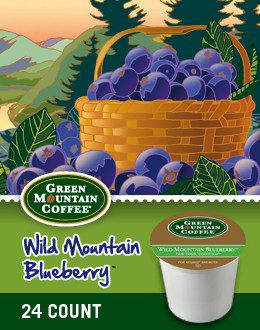 Green Mountain Fair Trade Wild Mountain Blueberry K-Cup Sale Cross Country Cafe
Cross Country Cafe is my new favorite K-Cup store and every Wednesday they have a Wacky Wednesday Sale.  This week it happens to be for the very popular Wild Blueberry!  Right now you can grab the Green Mountain Fair Trade Wild Mountain Blueberry K-Cups for $10.99 a box.  These boxes have 24 K-cups, not the 12 or 18 that you find in the grocery stores.  So you are only paying $.45 a K-Cup.  Much cheaper than a coffee at your favorite coffee shop!
Shipping Discount
And when you Buy four boxes you'll get them all shipped for $4 – that's half off the regular price of $8!!  That comes out to only $1 per box.   And since this is a flat rate shipping, the more you order the more they save!   BUT if you order 12 boxes or more shipping is FREE!
To get this shipping discount, use coupon code BFGHOS912 at checkout.  This shipping offer ends Tues 9/18/12.
Grab yours now before they sell out!